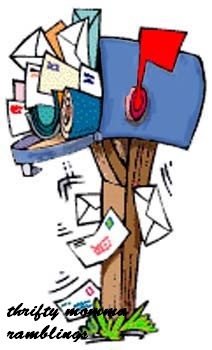 Is everyone ready for another edition of Monday Mailbox? The freebies were a little scarce this past week. I did get a really nice freebie from Klout! I am still expecting another nice Klout perk soon. If you are a fan of Thrifty Momma Rambling facebook fan page, you would have seen a free sample to Softlips. I did not get to it in time as their servers had crashed, and I had to bring my son to his appointment. Oh well. You win some and you lose some. I hope everyone else was able to snag a sample that tried.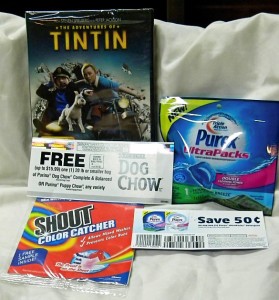 Here is what came in my mailbox this past week.
Free Shout Color Catcher Sheet Sample (one 55 cent coupon inside package)
Free Purex Ultra Packs Sample (50 cent coupon)
Klout Tintin DVD movie with Free Purina 20lb bag of Dog Chow dog food coupon
Not great but I received a free movie which was awesome! My son has been wanting to watch it since it came out last year. If you are wondering what Klout is and a perk, then please <a href="https://thriftymommaramblings.com/2012/03/klout-perk-free-tintin-dvd-movie-purina-dog-chow/">read this post </a>which will explain.
Anything to Add? Leave a Comment!