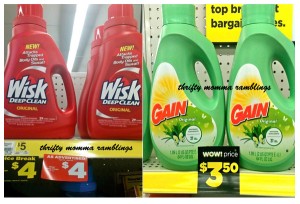 I was at Dollar General yesterday after CVS wouldn't let me use my $1/1 Wisk printable coupon. I noticed the ad had Wisk on sale for $4! I was thrilled my coupon would not go to waste. There are some better coupons floating around. As I was walking around then I saw the Gain (64oz) on an unadvertised sale. You got to love those sales. I'm just glad no one saw me taking pictures with my phone. They might think I'm a spy or just crazy.
Here are the breakdowns below for both sales.
Wisk Detergent is on sale (45oz) for $4 this week.
Use $2/1 Wisk Laundry Detergent 45 oz or larger exp ? (3/25 RP)
$1/1 Wisk Detergent (45oz) or larger printable coupon
Final Price: $2 a bottle! (or $3 using the printable coupon).
Dollar General Gain Detergent (64oz) is $3.50!
Use: $1/1 Gain Detergent ETS exp5/31/12 (RP 04/15/12) Limit 4
$1.50/1  Gain Detergents, Fabric Softeners, Sheets, Dryer Bars or Scent Boosters ETS exp 4/30/12  (RP 03/18/12)
Final Price: $2.00 a bottle or $2.50 depending on which coupon you have.
Remember Dollar General has the $5/25 purchase coupons printing out on receipts. This is good in-store on Saturday April 21st.
You can also buy your Nivea Body Wash to sweeten the deal. Those are 50 cents after coupon!
Anything to Add? Leave a Comment!