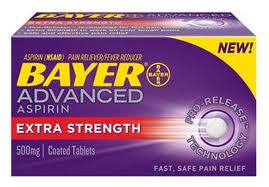 Bayer is giving away to the First 10,000 Daily Free Bottle of Bayer Advanced Aspirin daily for the next 10 days! Even if you miss out today, then you still have a chance to snag a FREE bottle.
The times will change daily but today's (April 16th) time is set between 1pm-3pm est! (Or 12-2pm CST)
As soon as I see the bottles are available, then I will say GO on my Facebook Fan Page.
I hope you snag a free bottle!
Anything to Add? Leave a Comment!