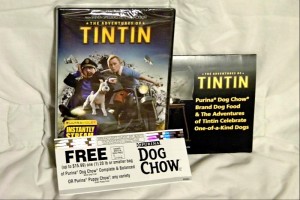 *Note: I was given a product or sample because I'm a Klout influencer. I was under no obligation to receive the sample or talk about this company. I get no additional benefits for talking about the product or company.
I just received my best Klout Perk yet! I received a copy of The Adventures of Tintin DVD movie and a coupon from Purina Dog Chow® for a free 20lb bag of dog food! I am so excited to share this great perk with you guys. I have not watched the movie yet, but I have read so many great reviews. My son is really excited we received this movie as he really wanted to see it at the movies. I do not own a dog so instead I am donating the coupon to a local animal rescue group. The group is always asking for donations of food among other items they need for the animals.
Purina Dog Chow® has a current sweepstakes called The Adventurous Dog Photo Sweepstakes. Enter the sweepstakes for the chance to be one of 250 winners to win a copy of The Adventures of Tin Tin DVD movie. The Grand Prize is a trip for 4 to Paramount Pictures Studios in Los Angeles, CA and a year's supply of Purina Dog Chow® brand dog food!
Click Here to Enter Purina Dog Chow Sweepstakes on Facebook
Now you are asking this is great Bonnie, but what is Klout? The short and simple answer is you get rewarded for being social on your Facebook page, Twitter, Linkedin, and other social media channels. The more you influence people on your social networks, the more Klout you will receive. Then you pick topics which are endless. I have topics such as blogging, parenting, mom, coupons, giveaways, and more.
You can give people +K (1 pt basically) and they may return the favor. The more +K you receive, then the higher your perks will rank. Each new topic you pick starts at low, and the best is called Strong for that topic. Many perks want you to have at least a medium in a certain topic to claim a perk.
If this seems confusing, then I apologize as it took me several months to figure it out. Now it seems really easy.
Have you seen The Adventures of Tintin yet?
Click on the Banner to sign up for a $2 Purina® Puppy Chow Coupon

Anything to Add? Leave a Comment!