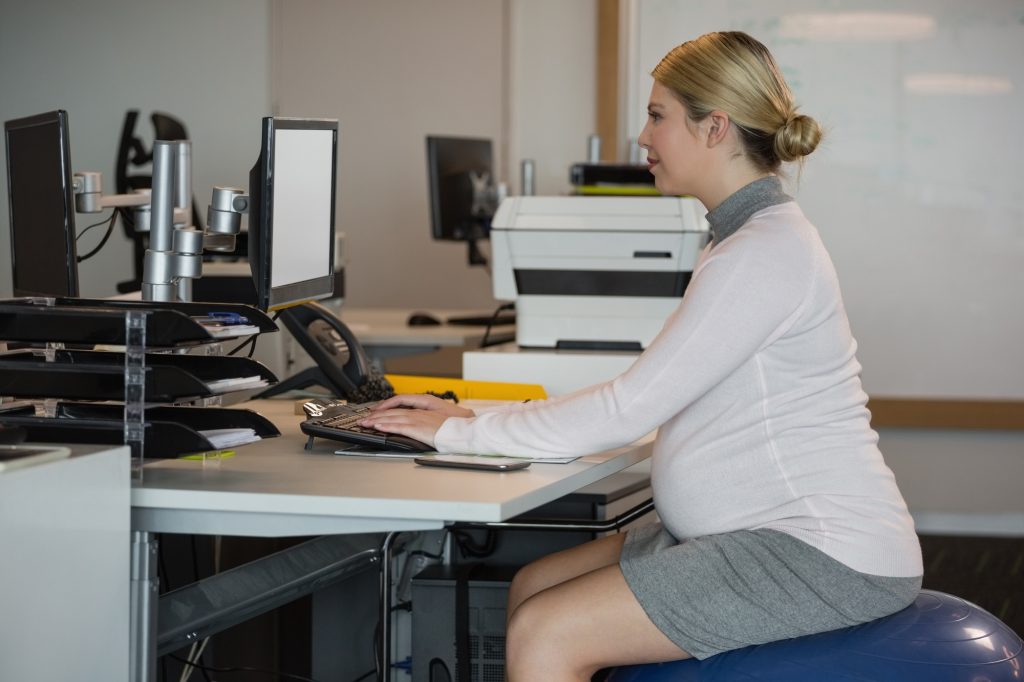 Over half of pregnant women work full-time, with 82% continuing to work until right before their due date.
Whether for financial or other personal reasons, more and more women are continuing to work throughout their pregnancy than in past decades. And this can take a toll on women's bodies and mental health, as they grow a new life while dealing with workplace demands.
But working while pregnant may also be essential for some women who are needing more money for their baby budget, or who simply want to maintain their regular lifestyle as much as possible before their little one arrives.
Regardless of your own motives for working during pregnancy, there are several points to keep in mind. Read on for advice on how to navigate work and pregnancy.
When Should You Share the News?
If you only recently discovered that you're expecting, you may not know when to share the news at work.
While this is an extremely personal decision, many women will limit who they share their pregnancy with until the second trimester. However, the first trimester can be filled with intense fatigue, morning sickness, and other uncomfortable symptoms that can make your time at work extra challenging. And trying to hide your frequent trips to the bathroom or sudden food aversions may only add more stress to your situation.
That's why telling your boss or manager about your pregnancy may help, even if you're still in your first trimester. That way, they can understand any changes you're experiencing and offer their support.
How Can You Stay Comfortable?
When you're pregnant and working, you might feel expected to function just like everyone else in the office. But staying comfortable and productive will likely require some changes and small accommodations.
Some ways you can stay comfortable during your 9-to-5 include:
taking frequent breaks
keeping snacks and drinks on hand
limiting your time spent standing
stopping business trips
switching to remote work
wearing comfortable clothing and shoes
stretching and moving throughout the day
working shorter hours or asking for flextime hours
using a footstool at your desk
asking for help when lifting heavy objects or performing other physical labor
Some women feel guilty or uncomfortable asking for accommodations. But if it helps you work and be a productive member of your team, it's a win-win for both you and your coworkers. There's no need to be hard on yourself during this important period in your life.
What Are Your Rights at Work?
Your rights at work during your pregnancy depend on where you live, but many countries and states have laws protecting childbearing employees.
In the US, the Pregnancy Discrimination Act and the Americans with Disabilities Act prohibit companies with at least 15 employees from firing or laying off women because they're pregnant. And if you need time off, you're entitled to the same rights as employees with temporary disabilities.
While pregnancy itself isn't a disability, it can lead to some conditions that might be, like carpal tunnel syndrome or sciatica. If you're experiencing complications during your pregnancy, you have the right to time off, fewer working hours, or working with accommodations, without facing termination.
When Should You Stop Working?
Being pregnant at work can become increasingly difficult as you get closer to term.
Ultimately, the decision to stop working and when to do so is up to you, and the timing will be different for each expecting mother.
If you're experiencing preterm complications such as high blood pressure, excessive swelling, or unusual pain, your doctor will generally advise you to stop working. High-risk pregnancies are also more likely to result in complications, making it a safer choice to stop working sooner rather than later.
And if the demands of your job are just too much to bear, you may decide it's time to stay home.
Listen to your body, and decide for you when is the right time to stop working. Many women will devise a plan with their doctor's advice and share it with their boss in advance, scheduling exactly when their last day will be. That way, their boss and coworkers can easily adapt, and the mother has time to prepare for the baby's arrival.
Is Working While Pregnant Risky?
One of the most common questions about working while pregnant is whether or not it's risky for the health of the mother or child.
A workplace that allows reasonable accommodations for pregnant employees generally won't pose a risk to the pregnancy. However, some environments may not be suitable for those who are expecting.
If your job involves harmful chemicals or substances, excessive noise, extreme temperatures, and a lot of physical labor and movement, it may increase the chance of experiencing pregnancy complications.
High-stress jobs may also threaten your and your baby's health while pregnant.
It's important to discuss these risks with a doctor to decide whether it's okay to work while pregnant. During the family planning process, some women may expect to work throughout their entire pregnancy, not considering some unexpected risks or complications that may occur later.
It's important to consider these risks and how stopping work may impact your family financially. Waiting to get pregnant until you're prepared to stop work if needed may be worth it to ensure your health and wellbeing. Find out more about inexpensive birth control options to help you wait until you're ready.
Staying Safe and Healthy When Working During Pregnancy
Working during pregnancy is becoming increasingly common, and there are ways to remain in the workplace while growing your bump.
Keep these tips in mind to stay safe and healthy at work, and allow yourself to take a break when it's the right time for your physical and mental health.
For advice on family planning and expanding your brood, check out my latest articles on family life!
Anything to Add? Leave a Comment!