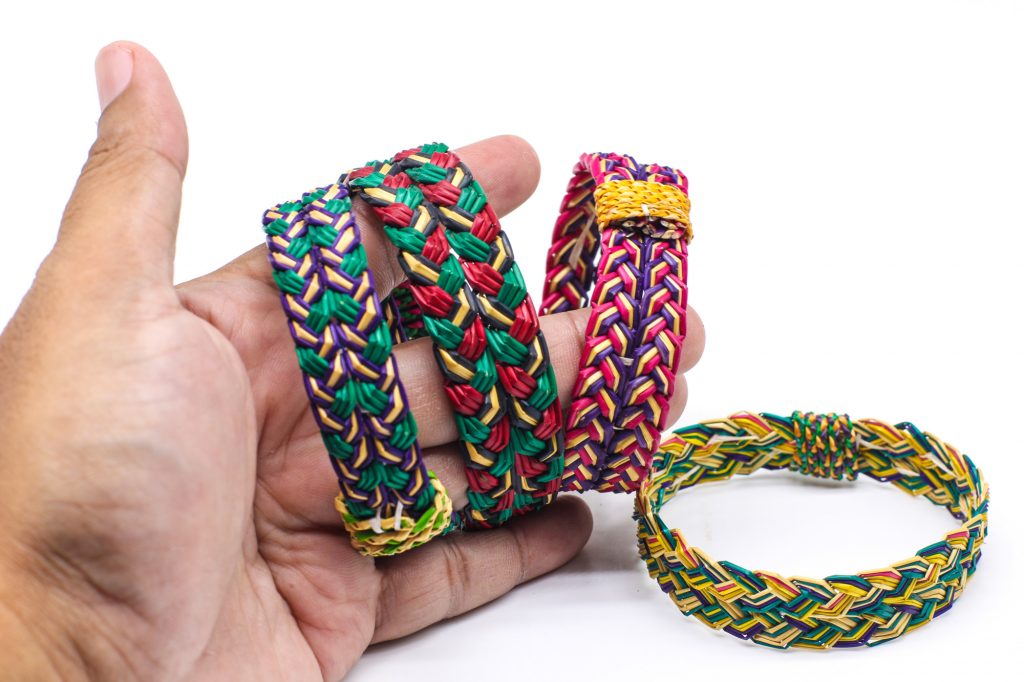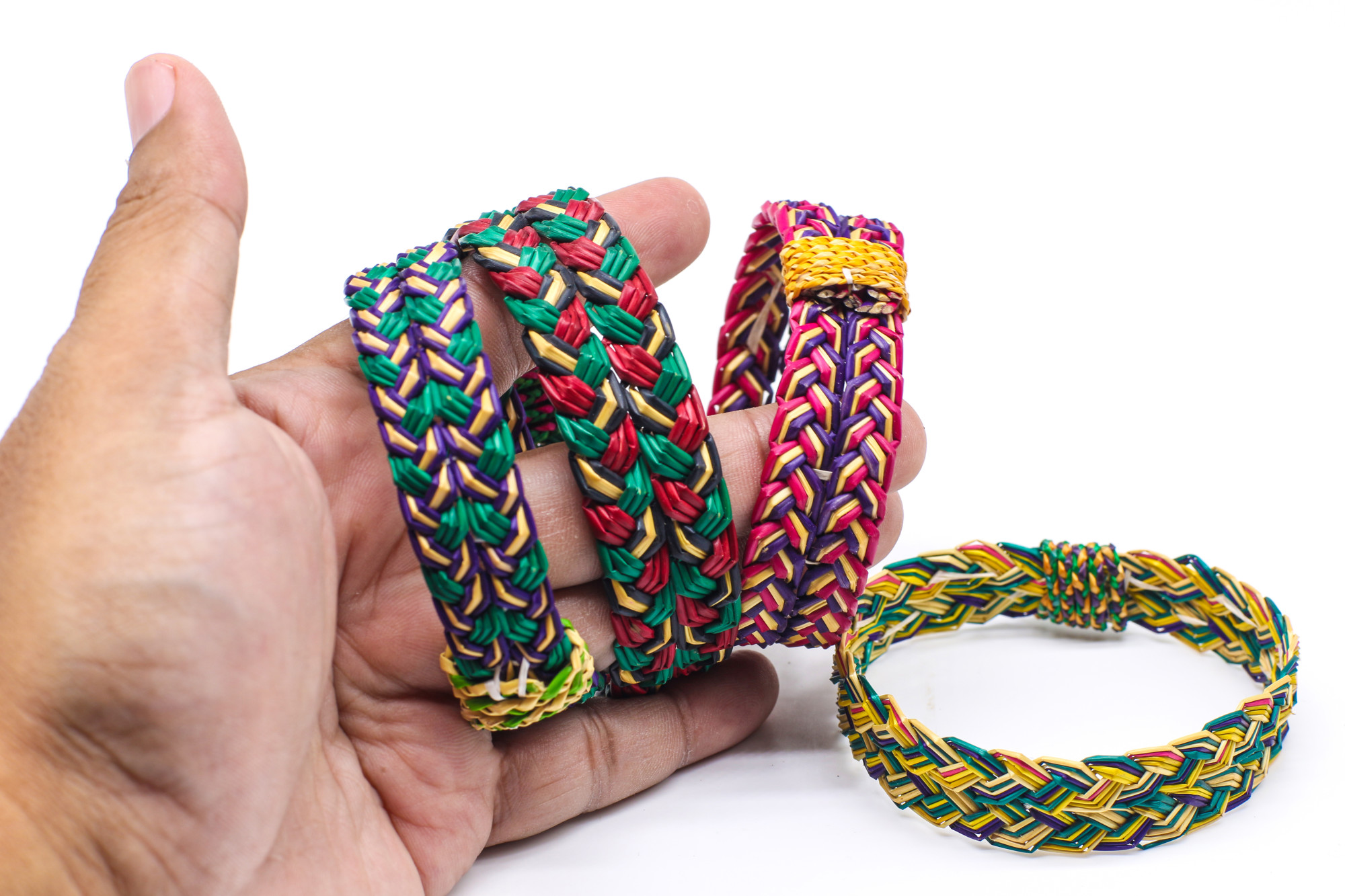 If you're one of the many mamas working remotely, or from home right now, you're not alone. You're also not alone in trying to figure out how to keep your youngsters busy!
As a thrifty mom, looking for some easy craft projects to keep those little ones out of trouble, you've come to the right place! Great arts and crafts projects are easy to make when you've got plenty of plastic craft lace.
What's plastic craft lace? How do you use it? We'll fill you in on the top plastic lace projects.
You might feel surprised to find that you already have some, laying around the house!
So what are you waiting for? Let's get crafting with craft lace!
What Is Plastic Craft Lace?
Craft lace, or plastic craft lace, is like flat plastic yarn or string. It comes in spools of many different colors. You can use it for many arts and crafts projects.
Where Can I Buy Craft Lace?
You can get great deals on plastic craft lace online or at your local craft store. Be sure to watch out for deals in your local coupon circulator, or in your email inbox, so that you can get a good deal!
You'll want to get a variety of colors as well, to make your projects stand out. 'Fun packs,' with multiple different colors are an economical and high-value place to start.
What Other Supplies Do I Need?
With just some plastic craft lace, you can get started right away! However, there are some other tools you might want to consider buying to help make your projects easier. These include:
Scissors
Clear-drying craft glue or a hot glue gun
Beads (for finishing projects)
Lanyard snaps or keychain rings (to secure the tops of the projects)
Pliers (to help pull the stitches tight!)
Top 5 Projects With Plastic Craft Lace
Now that you know what plastic craft lace is and where to find it, let's get started on some easy craft projects!
1. Keychains
Sometimes called 'boondoggles,' these cute, chunky keychains are a great way to make your keys stand out.
For This Project, You'll Need:
2, 1-yard pieces of craft lace in different colors
Key chain ring (optional)
Scissors
Bead for the end (optional)
Craft glue
To Complete This Project:
1. Put your two pieces of lace together, and make an 'X,' with the strands meeting in the middle. If you want, you can use a keychain ring as the meeting point. It might be helpful to secure the ends with tape, until you get comfortable.
2. Keeping the laces parallel, take the lace on the bottom of the X, and loop the top lace down, and the bottom lace-up. This should make an 'N,' shape.
3. Take the second color lace, and weave it through the 'N,' formed by the first lace; over the top, and under the bottom.
4. Pull the 4 loose ends tight! You should have a neat, boxy pattern.
5. You can repeat this stitch, or get fancy, and add spirals and more laces to get a cool effect.
6. To finish, you can place a bead at the end, pulling all the strands through. Apply some glue and weave the ends of the laces through the bead.
7. Let dry and attach your keys! You're ready to go!
2. Zipper Pulls
Don't you hate it when a zipper breaks? You won't anymore! With these super cute and functional zipper pulls, you'll be able to repair your zip-ups in style!
For This Project, You'll Need:
2, 1-yard pieces of plastic craft lace in different colors
Lanyard Snap
Scissors
Bead for the end
Craft glue (clear drying)
To Complete This Project:
1. Slide the two pieces of craft lace into the lanyard snap, until they meet at an 'X,' in the middle.
2. Keeping the laces parallel, take one of the laces and form an 'N,' shape. Each end should be bent across the center point.
3. Weave the second lace over and under the 'N,' created by your first lace. It should look like a messy, loose box pattern.
4. Pull the four loose ends tight! You should have a neat box.
5. It's the same idea going forward, but easier now! Repeat the weaving pattern until you've reached the length you want.
6. To finish, you can place a bead at the end of the zipper pull and attach with a little dot of craft glue. Weave the loose ends through the bead and tighten to secure.
7. Let dry and voila! Attach to broken zippers to give them new life!
3. Friendship Bracelets
Nothing makes you feel like a kid again like friendship bracelets. Make one to wear with your daughter to honor your special bond.
For This Project, You'll Need:
Plastic craft lace in different colors
Beads, as many as you'd like to weave or braid in
Scissors
To Complete This Project:
 1. You have a couple of options for this project. You can follow the instructions for a keychain or zipper pull, OR you can do a simple 3-strand braid.
2. For the 3-strand braid, start with a simple knot to keep the three pieces of craft lace secured. Try adding different color beads as you go; this adds texture to your friendship bracelet.
3. When you've reached the desired length, either tie off the bracelet (as above) or finish the braid with a simple knot and dot of glue.
4. Affix the loose ends at the bottom to the knot at the top. Add another dot of glue for extra security.
5. Slip on your wrist; beautiful!
4. String Art Paintings
If you're not feeling up to a longer, more complicated project, this creative painting idea can be a great way to go. As long as you don't mind getting a little messy!
For This Project, You'll Need:
Craft lace, multiple size pieces
Canvas, any size
Painter's tape, to secure the strings
Acrylic paint or spray paint
Newspaper, for covering the workspace
To Complete This Project:
1. You need a sense of adventure for this project! Start by covering your workspace with old newspaper.
2. Make a geometric pattern or design on your canvas using the craft lace. You can wrap one strand around multiple times, or use several pieces for a different effect. Secure the lace on the back of the canvas with tape.
3. Paint over the lace using acrylic or spray paint. Let dry.
4. Carefully remove the tape and the lace from the canvas. The resulting pattern should be a beautiful design of white space and the paint colors you used. Discard the tape and painted-over lace.
5. Enjoy your homemade art!
5. Homemade Gift Tags
This is an easy way to get kids involved with holiday gifts: making homemade gift tags!
For This Project, You'll Need:
Cardstock or heavy paper
Plastic craft lace, different colors
Single hole punch
Scissors
Markers, stickers, other things to decorate!
Craft glue (optional)
To Complete This Project:
1. For this project, have your young helper cut out pieces of cardstock or heavy paper. Mom can help with this part, or give them some scalloped safety scissors to make a cool border.
2. Decorate your tags; you can use markers, stickers, paint. The sky is the limit!
3. Punch a hole in the corner of your gift tag.
4. Secure the paper gift tag to the gift with plastic craft lace. You can use multiple strands for a colorful effect, or just one, whatever your preference.
5. To make ahead, tie the craft lace into loops around the paper gift tag, and secure with a dot of craft glue. These gift tags will be ready for the holiday season!
What To Do With Your Finished Projects
Now that you've mastered these projects with plastic lace, what to do with them? Read on for further inspiration!
Keepsakes
You'll love looking back at these projects when your little ones are grown. You'll love remembering these crafts you made together!
Sell on Craft Websites
Once you get really good at making plastic lace projects, you can sell them! This is a perfect solution for a busy mom looking to make an extra few dollars.
Gifts for Family
Whether it's gift tags or zipper pulls, your family and friends will love to receive gifts made with craft lace. These colorful, fun gifts will brighten anyone's day!
Endless Creativity, Endless Possibilities
Now that you've discovered, or rediscovered, plastic craft lace, it's time to let your creativity shine! These children's craft projects are perfect for rainy days, travel activities, and simple, thrifty fun. But their utility doesn't end there!
You can have your kiddos help you with these projects all year long. Who knows? It may even turn into an extra source of income for you or a great gift for someone you love.
For more tips for working moms and work-from-home mamas, be sure to read our other DIY blogs. Follow us on social media, so you never miss a deal, a giveaway, or free samples.
Anything to Add? Leave a Comment!