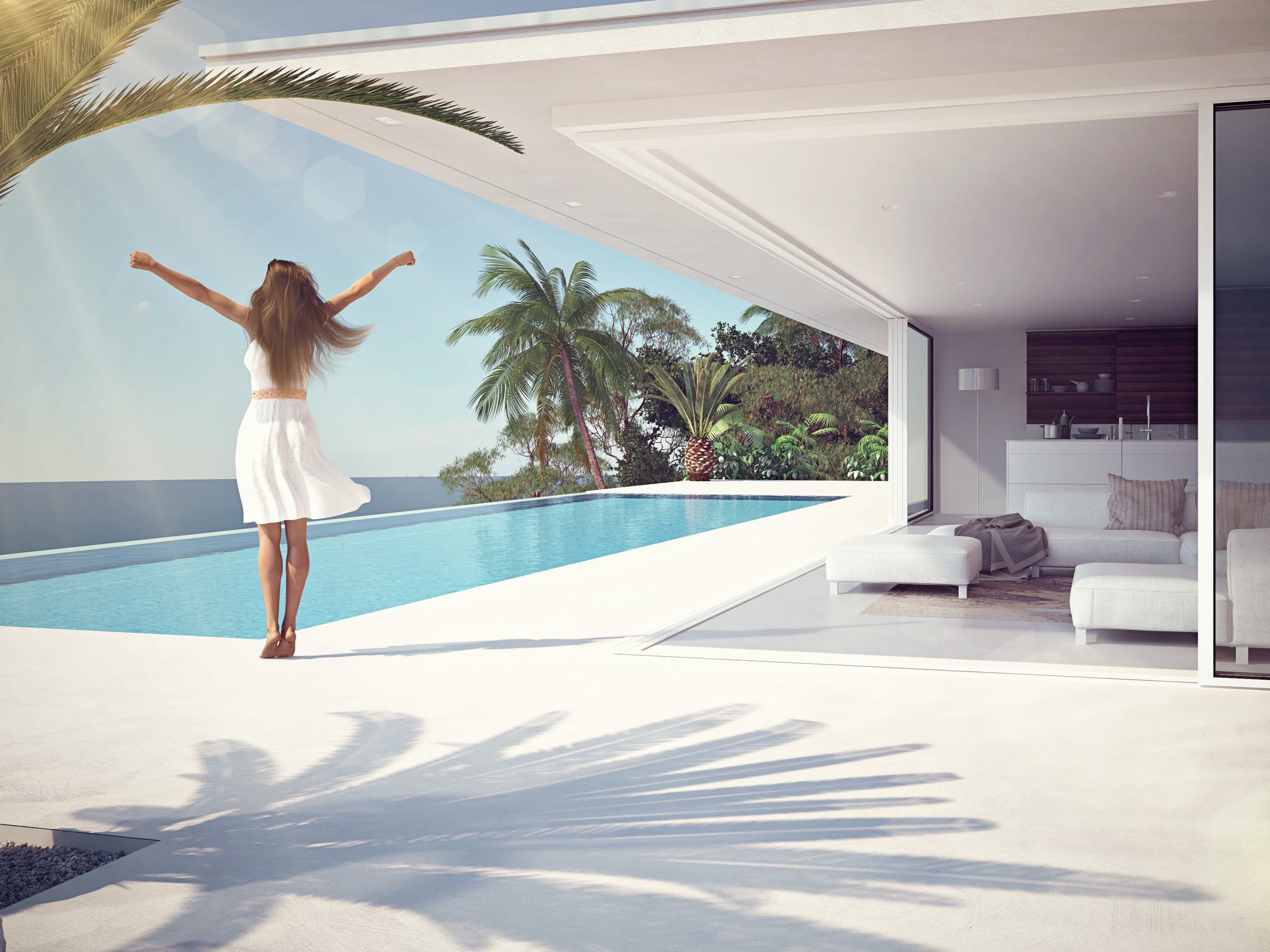 Now that the holiday season is over, you probably need a vacation from your vacation.
So, where can you go that's far away from prying in-laws, screaming kids, and the town where you grew up in?
No matter what kind of destination you're looking for or experience you're interested in having, this list of some of our favorite luxury getaways will have you ready to hit the ground running in 2018.
Here's to a healthier, happier, and more well-traveled you.
1. The Chiva-Som International Resort/Spa In Thailand
Did 2017 really do a number on your body? Have you noticed a few new wrinkles forming? Do you just feel like your alignment is completely out of whack?
If so, then book your stay at the iconic Chiva-Som resort in beautiful Thailand.
If you really want to reboot, then we suggest traveling for one of their many wellness retreats. You'll get personalized wellness, physical, and even skin consultations. You can also take part in one (or more) of the eight daily fitness classes.
You'll also get an incredible daily spa treatment, including a scalp massage, body polish, and the signature Chiva-Som massage. If you really want to take it to the next level, book your stay when a visiting consultant is on the grounds.
The resort frequently hires experts in facial relaxation, hypnotherapy, reflexology, and more to come and teach on the grounds.
Even better?
Don't worry about dressing up. Guests usually walk around and explore in special pajamas and bathrobes designed by the resort.
2. The Marulivo Resort In Italy
Next up on our list of the best in luxury getaways?
The hidden gem that is the Marulivo Resort in the tiny village of Pisciotta, Italy. If you want to stay in stunning, specially-designed apartments that combine Italian comfort with the ultimate in luxury, then this is the place for you.
Think cozy stone fireplaces, balconies overlooking the sea, and enormous bathtubs that allow you to truly relax and take in the UNESCO World Heritage site surrounding the resort.
You'll even be able to relax on a stone terrace and take in evening cocktails, the olive trees, and stunning sunsets.
Talk about romantic.
Especially if you want to experience the ultimate in Italian cuisine, you simply must book your stay here. In addition to stunning gastronomy and homemade bread with everything, you can also take Italian cooking classes, so you'll be able to bring the knowledge back home with you.
What else is there to do at the resort?
Explore the ancient Paestum Temple, the Palinuro Cape and caves, or even take a ferry to Capri or tour the coast in a sailboat.
If you're more the artistic type, the resort even offers local pottery classes.
Want to bring your furry friend along for the ride? Good news — the hotel is pet-friendly.
3. The Constance Moofushi In Maldives
Last on our list of luxury getaways?
The absolutely jaw-dropping, total escape that is the Constance Moofushi in Maldives. Think bright blue water, shining sun, your own seaside (we mean that the Indian Ocean is literally three feet away) private home, and more.
You'll dine nightly on freshly-caught seafood, take sunset cruises, and even have the chance to swim with the dolphins. You'll also be able to explore under the sea in private diving tours.
If you're a fan of gold, there is a course available for you to play. In terms of spa treatments, it goes without saying that this resort offers some of the best in the world.
You'll step into a stone and rose hot natural spring, enjoy rejuvenating facials, and experience the top massages. But you don't have to worry about missing the scenery. You can be pampered on your porch, overlooking the Indian Ocean.
If that's not luxury, we don't know what is.
What Should You Bring?
Now that you have a few destinations in mind, it's time to start packing for these luxury getaways.
So, what are a few things you need to take care of before you go?
First, if you're traveling abroad, get to know the local currency. While it might be convenient to switch out your dollars at your destination's airport, the commissions and exchange rates won't be on your side. Always stash some cash before you go.
Additionally, make sure that you protect your phone from the elements, whether sand or snow. Invest in a Custom Envy phone case to ensure your data is always protected. Traveling at the last second? Don't sweat it — they offer rush delivery for those spontaneous trips.
Finally, we suggest picking up this "Airplane Mode" travel kit to make sure you're in tip-top shade when you arrive. It has an eye mask, emery board, wrinkle remover, and much more so you'll land looking your best.
What Are Your Favorite Destinations For Luxury Getaways?
Thanks to this post, you have more than a few ideas about possible destinations for the most unforgettable luxury getaways.
Is there a special place you think we forgot to add? Where are your favorite places to travel when you want to be pampered and unwind? Let us know in the comments below!
Looking to vacation like your favorite celebrity?
Take your Instagram (and your luxury getaways) to the next level by checking out our website and blog. We're sharing the latest scoops on must-have travel items, exotic destinations, and what you should wear to turn every head on the beach.
The only New Year's resolution you really need to be happy?
Forget that ten pounds. Instead, make the time to travel, meet with locals, sample international cuisine, and definitely to meet that cute foreign hottie.
Anything to Add? Leave a Comment!