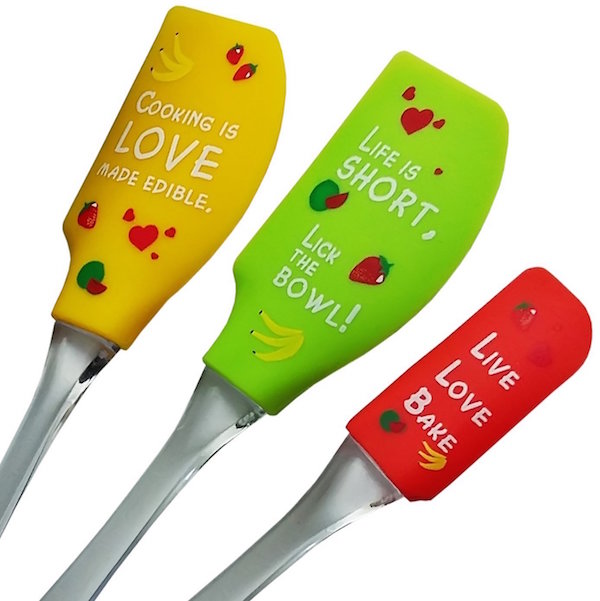 Don't mess around when in the kitchen! All little hands love to help and these are just perfect to let them "help" with! Go now to see if you have won this awesome Silicone Rubber Spatula Set of 3!
DISAPPOINT YOUR KIDS! With incredibly flexible silicone heads that reach every corner and scrape every part of your mixing bowl. No more licking the bowl kids! Maybe you could be kind and leave a bit for them, they probably haven't come begging for food in at least 10 minutes! These stunning spatulas get every bit out of the bowls leaving no waste and leaves bowls easy to clean afterwards.

BAKING FOR LOVE… SHOW WHO YOU ARE. Bright, fun and made with love, your new spatulas show off you, your baking and your kitchen. A beautiful gift for you or the baker in your life who always has cake to give and love to share.

THAT LAST SPOONFUL WILL NEVER BE OUT OF REACH AGAIN. Last jar in the house? Last spoonful in that little, tiny jar? Enjoy the satisfaction of knowing that YumYum's Mini-Spatula was made specially to reach that last spoonful in the last jar in the house. 100% FDA Approved BPA Free Premium Silicone Set contains 2 large spatulas (10.75 x 2.37 inches) and one perfectly sized mini-spatula (9.19 x 1.31 inches). You'll never be left wanting more again!

SUPER-STRONG HANDLES JUST KEEP ON WORKING. Have you read reviews about broken handles? Enjoy peace of mind knowing these workhorse spatulas do their job over and over again – solid, thick, clear handles offer a comforting strength – no more snapped or bent handles! EASY WIPE BLADES – no more waiting for the dishwasher to finish, just wipe them clean and you're ready to go.

10 YEAR GUARANTEE. Here at YumYum we love our customers, believe in our products, and want to be sure of your satisfaction. That's why we offer a 10 year guarantee to all our customers. There will be no quibbling if the product does not meet your expectations, just great YumYum service – guaranteed.
Anything to Add? Leave a Comment!