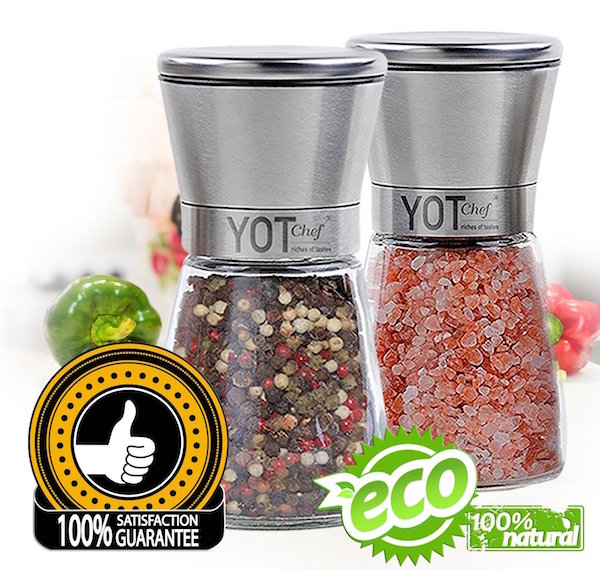 Love to cook? If so then you need to stop right there and enter to win this Luxury Stainless Steel Salt And Pepper Grinder Set – Pepper Mill and Salt Mill!
? THE HIGHEST QUALITY THAT YOU DESERVE: Thanks to the stainless steel quality, our majestic pair is never going to turn tarnished and rusty. Don't miss the chance of getting a kitchen accessory that is going to serve you for a lifetime! When it comes to food, top-notch quality and risk-free construction is a must- don't you agree?✋ ELEGANT DESIGN, MODERN AESTHETIC: Imagine yourself using this amazing mill pair- isn't like you are in an Italian restaurant?

? EXTEND FRESHNESS. The stainless steel cap which elegantly designed keeps your spices fresh for long time. Add extraordinary flavor to your home-made dishes by seasoning them with freshly ground spices and salt. Cooking with top-of-the-line YOT chef grinders will make perfection out of any recipe. ? EASY TO USE manual gadgets are here for you, to enrich and prolong your most valuable family time together

? PERFECT GIFT IDEA: Is your best friend moving to a new house and you're looking for a practical yet intimate gift to buy? Our salt and pepper grinder set is just what you need- put a smile on your loving ones' faces without excessive effort and hassle! A must-have for every person who loves little things related to kitchen.

♻ REFILL THEM ONCE IN A BLUE MOON: Thanks to their tall, 5-inches construction, these grinders will store a great amount of spices you keep using again and again. Forget about constant refilling and spices all over your kitchen table- refill once and save your peace of mind forever!

? NO-QUESTIONS-ASKED, 100% SATISFACTION GUARANTEE. We create premium products that go through rigorous inspection and testing. We have the best customer service on Amazon, and YOU, the customer, are our top priority. No need to hesitate, order now your grinder set for a risk-free culinary experience!
Anything to Add? Leave a Comment!