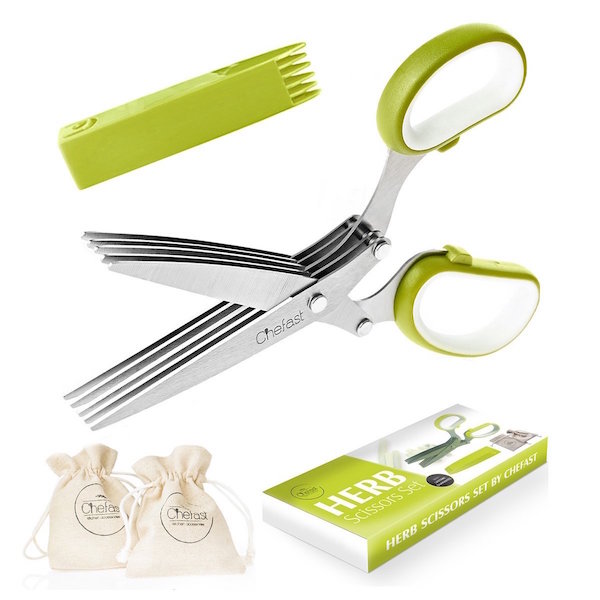 Chop herbs like a pro with Premium Herb Scissors Set by Chefast – Perfect Kitchen Gadget for Food Lovers – Includes Chopper / Cutter Shears with 5 Stainless Steel Blades, 2 Drawstring Bags & Safety Cover with a Cleaning Comb! Instantly win them now with Amazon Bouncy Box! Go now!
YOUR PERFECT HERB SCISSORS SET: Get amazing value with our 5-blade scissors, two drawstring herb bags, and safety cover with a cleaning comb. All items are packed in a stylish box you'd love to get or give as a present.

PLUCK, SNIP, AND SERVE: No need to mangle that basil or ruin that rosemary. With these precision herb scissors, topping off that salad or garnishing that pizza like a pro has never been easier. When you create your next meal with the help of these kitchen shears, you'll remember why you grew herbs and vegetables in your garden in the first place.

SIMPLE AND STURDY: With quality stainless steel construction, five blades and an ergonomic handle that won't slip, you're in complete control, whether you're serving up a feast or helping the kids with their latest masterpiece. That's because these cutter shears work wonders in the kitchen as well as the art room.

CONQUER THE CLEANUP: We built a cleaning comb right into the safety cover. Just give the blades a quick swipe and those clingy herbs fall off with minimum mess. Still some lingering residue? A quick rinse is all it takes to get the blades clean and ready for the next task.

GUARANTEED FOR LIFE: As with all our cooking gadgets, we back up our herb scissors with a lifetime replacement warranty. If they're not performing up to par, a brand-new pair is just a few clicks away. Maximize the freshness; order a pair or two of these multipurpose herb scissors today!
Anything to Add? Leave a Comment!