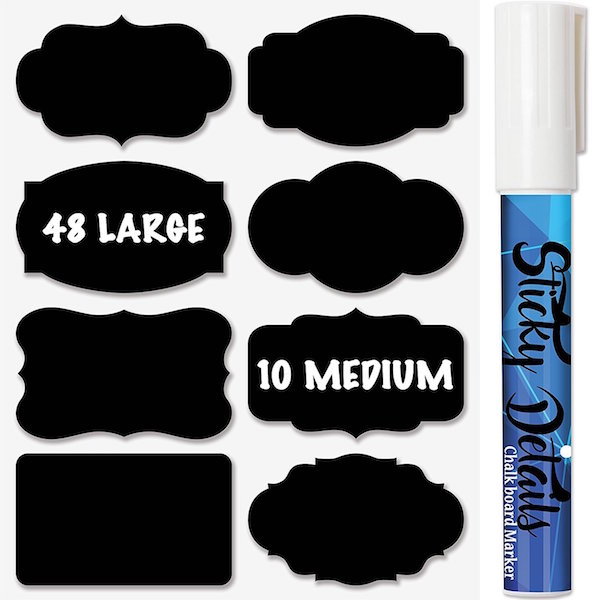 Keep your life organized and instantly win Sticky Details – Large Reusable Chalkboard Labels for Jars: 58 Premium Stickers for Jars + Erasable White Chalk Marker with Reversible Tip to Decorate: Kitchen Pantry Storage & Office! Good luck!
COMPLETE PACK 58 Chalkboard Labels: 48 pcs Large Chalkboard Labels (3.5×2.2 inches) + 10 pcs Medium Size (2.7×1.6 inches) + a White Chalk Marker (with a reversible tip that looks and feels much better than bright chalk! Works on chalkboard stickers or any other non-porous surfaces) + a Digital Guide with Free Tips from a Real Professional Designer. Our chalk marker, used by designers, has a reversible tip (chisel & bullet). Gently pull out the tip and turn it upside down and push it back inside.

8 UNIQUE DESIGNS. Pack of 58 Stylish Chalkboard Decals made of Superior VINYL waiting for you to decorate perfectly yours mason jars. We redesigned totally this labels for jars. These rectangle fancy labels are REMOVABLE and REUSABLE (write, peel and stick). Just erase the content of the stickers with a damp cloth and start over. You can write on with regular chalk or use the Liquid Chalk Pen.

PREMIUM QUALITY & HIGH VISIBILITY ! Matte texture with a crisp clean uniform dye cut shape. The surface is not shiny or slippery; strong and durable for an appealing look. These are VINYL stickers – Unlike contact paper, these Premium Chalkboard Labels allows regular chalk or any liquid chalk marker to write on. Dishwasher and refrigerator safe. REUSABLE and self-adhesive. The ink dries quickly and it doesn't flake off, NON-TOXIC 100% Water-Based.

You can LABEL EVERYTHING: mason jars ( kitchen labels ), spice jars, bottles, casseroles, container labels, wine glasses, coffee or tea tin boxes, canisters (kitchen canister labels), folders, lockers, pantry shelves, table settings, office supplies, storage bins.The Sticky Details Chalkboard Stickers are decorating and organizing your cupboards, kitchen pantry storage, garage, containers, office, parties, bakeries, coffee shop, craft projects, craft rooms, walls and kids bedrooms.

PROTECT YOUR INVESTMENT: Sticky Details Chalkboard Labels with 100% Satisfaction Guarantee! Choosing the Sticky Details Chalkboard Stickers for jars with the White Chalk Marker means protection for your investment ! BUY WITH CONFIDENCE.
Anything to Add? Leave a Comment!