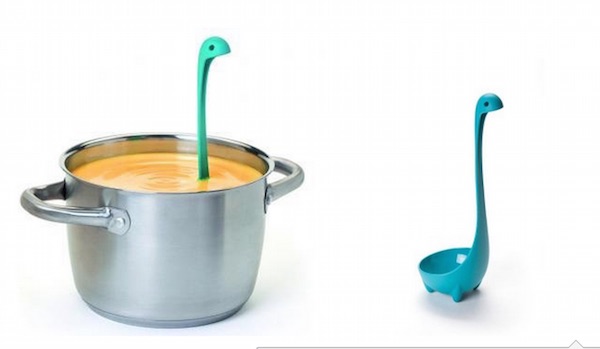 We ALL love fun a quirky kitchen gadgets! This pair is no different! Right now you can win Joinline Pack of 2 Soup Ladle,100% Food-Grade Nylon Mamma Nessie Colander Spoon with Loch Ness Monster Ladles (Brother, Blue-Green)! Good luck!
BRILLIANT DESGIN, SPARKS INTEREST IN COOKING AND IMAGINATIVE – Our joinline nessie ladle looks all manners of cute, making it a guaranteed source of novelty for anyone who wanders into the kitchen while the beef stew simmers.

SELF-STANDING LADLE – Nessie's cute design is also functional, with the creature's set of stubby legs allowing the ladle to stand on its own without toppling over. When sitting inside your pot with its neck and head protruding through your delicious broccoli soup, it looks exactly like the Loch Ness Monster in the old black and white photo supposedly taken in Loch Ness Scotland in 1934.

MADE FROM TOUGHENED NYLON, 100% FOOD SAFE – Windaze nessie ladle is made from 100% food grade nylon. Comparing to plastic, Nylon has better heat resistant, excellent chemical and wear resistant which means the ladle's will not become brittle and the color will remain fresh even after years of usage.

EASY TO CLEAN, DISHWASHER SAFE (NOT MICROWAVE SAFE) – joinline nessie ladle can be cleaned with a drop of dish soap, rinsing in warm water, and let air dry. Or you can put it on the upper rack of your dish washer and let machine take care of the work.

A perfect Xmas gift for your wife and children.
Anything to Add? Leave a Comment!