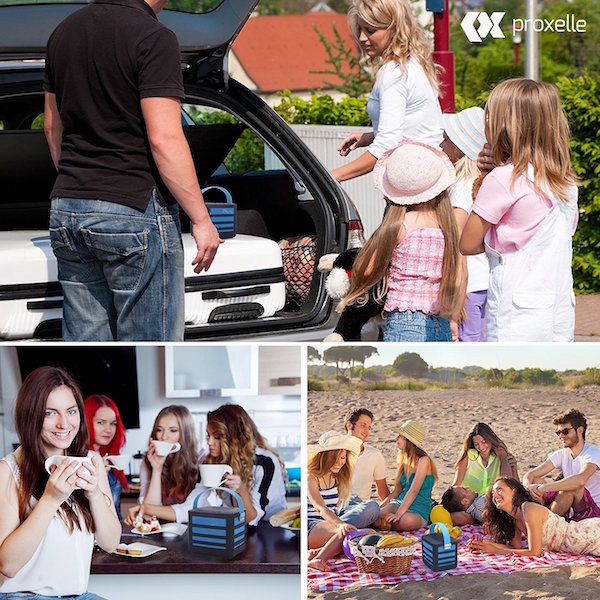 Love to get out and hang at the beach with friends? Maybe you like to go camping? No matter what you like doing you need to enter to win this Portable Wireless Bluetooth Speaker with Built-In Powerbank Plus 2 USB Ports – Get Epic Audio Wherever You Go. (Blue)! What are you waiting for? Enter now!
2-IN-1 AWESOMENESS: Situations arise. Maybe you're running late on the commute, or maybe you're out camping overnight – either way, your phone's running out of charge, and there's no outlet available. Now here's where the real awesomeness kicks in. SurgePower is uniquely designed with an ULTRA-POWERFUL built-in powerbank – with 10,000 mAh, it can charge up to two devices at the same time, which allows for double the convenience!

SUPERB SOUND QUALITY: Bluetooth 4.0's better-than-ever-before sound system makes for audio that's completely free of background noise. Everything you hear is in its richest tone and quality – making sure you get 100% enjoyment out of everything you listen to. Bring it with you on your next camping or outdoor party and you'll have powerful loud speaker on the go.

AUDIO FOR HOURS: Blast this speaker all you want – it's got 12 hours of playback time, 20 hours of talk time, and 800 astounding hours of standby time. That's more than you need for an overnight camping or party! Roam freely and connect to any Bluetooth-enabled device you have, whether Apple or Android – the operation range of 33 feet gives you that much more freedom.

RUGGED TO THE MAX: Take this speaker wherever you go with complete confidence – it's dustproof, so it won't get damaged on hikes or campouts. And it's shockproof, so you can be sure it won't easily broke. Handy and portable speaker with silicone case for extra protection. Its Multipoint Function allows you to simultaneously connect to two devices – easily control music or take call hands-free.

OUR PROMISE TO YOU: At Proxelle, there's no two ways about it – our goal is to make sure you're completely happy with every purchase. That's why you're backed by our 100% Satisfaction and Money Back Guarantee – either you love this product, or we'll return every penny. It's just that simple.
Anything to Add? Leave a Comment!