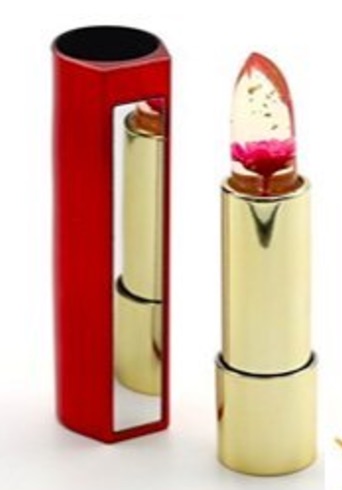 I have seen this all over the place and have fallen in love with this product! Now you have a chance to INSTANTLY WIN One North Beauty Infused Flower Jelly Lipstick with Magic Color Temperature Change – Flame Red right now! Simply click on the link and follow the directions! Good luck! Please let us know if you won!!!
About the Product
1. One North Beauty® Flower jelly lipstick: Each flower essence lipstick is gold-flaked with infused flower inside. Comes with free shipping and also a free facial mask.
2. Magic color temperature change: Once applied to lips, the clear jelly lipstick transforms into a lovely transparent pink gloss.
3. Clear jelly lipstick: Simple and elegant lux lipgloss with a pleasant fruity scent.
4. Gloss flower lipstick with mirror: Each individual lipstick is housed in a deluxe signature red metallic tube with mirror on one side. This most beautiful lipstick is also animal cruelty free.
5. Highly moisturising floral lip gloss with Lip Balm Effect. Cosmetic Grade Ingredients: Candelila Resin, Cocoa Butter, Plant Extract, Stearic Alcohol, Olive oil, Citric Acid, Grape Seed Oil, Lavender oil.
Anything to Add? Leave a Comment!