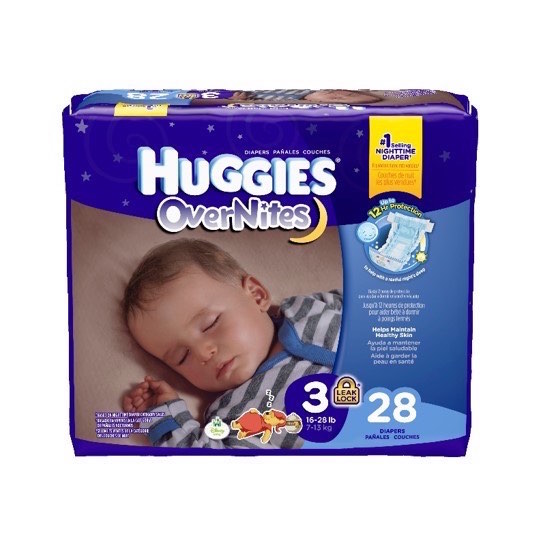 New Moms! Are you looking for some tips to help Baby to sleep through the night? Then Keep Reading and at the end you can enter to win a 2 Month Supply of Huggies OverNites Diapers. Start by choosing the right diaper for nighttime. Nighttime diapers are designed to be more absorbent to keep baby dry and comfy all night long. Huggies OverNites Diapers are the #1 selling nighttime diaper and are scientifically designed to support baby's sleep at night. The wick away layer acts to keep baby's skin dry and healthy and the SnugFit Waistband keeps the diaper in place as your baby moves throughout the night for maximum protection. Look for OverNites at grocery stores and mass retailers to help the entire family have a deep sleep and a happy day."
My second tip is find what works for you and your baby. Many people will give you advice on what is best but in the end you have to find out what works best for your baby. This may mean different nap times, it may mean music, it may mean snuggles or rocking. Find what works best and stick with it. Huggies OverNites Diapers help them stay dry so once your get them to sleep they are more likely to stay asleep. For me and my 4 little ones all of them go to sleep better when we put some soft music on for them. This meant less return trips to make sure they were down and asleep. Give it a try and maybe it will work for you or Check out these other tips!
Plus check out this great Confessions of Sleep Deprived Parents Video . If nothing else the video will make you laugh and realize you aren't alone.. and isn't that what its all about helping each other when we can!
Huggies Overnites Diapers Features Include:
Offers all night leakage protection for a full night's sleep (up to 12 hours) Fewer leaks at night than Pampers Swaddlers and Cruisers*
SnugFit* Waistband to keep the diaper in place throughout the night for maximum protection
Wick away layer to keep baby's skin dry and healthy overnight Adorable Disney® designs featuring a sleepy Winnie The Pooh
Anything to Add? Leave a Comment!