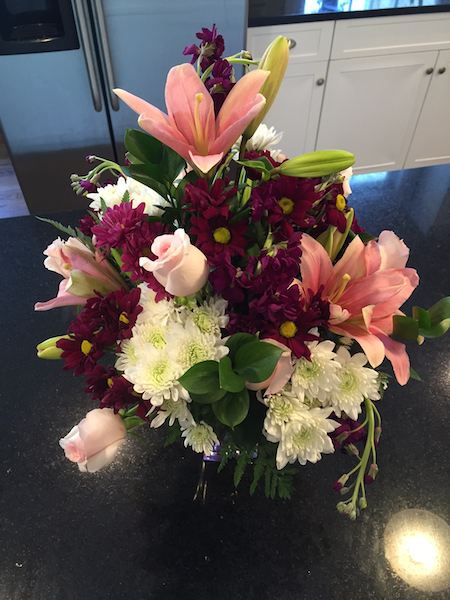 This is a Sponsored post from Teleflora.com, But opinions are 100% Thrifty Momma's!
Win Free Flowers for Mothers Day! $100 TeleFora Giveaway for Mothers Day! #OneToughMother (Enter Below)
In honor of Mothers day, Teleflora is doing all it can with a One Tough Mother promotion. No one ever said motherhood was easy. It's a tough, gritty, no-pain-no-gain job that takes strength, courage and a whole lot of love. A mother's perseverance is inspiring to say the least. Yes, motherhood is a struggle, but through all the difficulty comes reward – an endless supply. Motherhood isn't always hearts and roses, but Mother's Day can be with Teleflora.
I love it when companies take the time to notice mothers and all the hard work that goes into being a mom. Skinned knees, to late night school projects, to bed time stories and a pile of dirty dishes, a mom's work is never done. I know I cherish my mom and the many memories of nights sitting out the couch with her reading to me bed time stories before tucking me in to sleep.
For me celebrating mothers day with Teleflora makes my life a little easier. Me and my mom don't live in the same town, but I know when the flowers arrive it will be a special arrangement that my mom will love and cherish. I even received the amazing arrangement pictured above and all I can say is I wish all florists had the quality and care that was put into this arrangement as it brought a BIG smile to my face when it arrived.
A few of the amazing Mother's Day arrangements that will be available on Teleflora.com are as follows:  (Don't forget after you view the arrangements to use the entry options below to win a $100 Teleflora.com to thank your Mother with flowers!)
Teleflora's Garden Pitcher Bouquet (Available on Teleflora.com for $69.95)
Fill mom's heart by honoring her timeless devotion with this charming 2-in-1 gift she will cherish. A luxurious mix of rich lavender roses and chrysanthemums, fragrant white lilies and eucalyptus is hand-delivered in a tall, rustic Provencal-style water pitcher (FDA-approved and food safe) that is perfect for mom's springtime entertaining.
Teleflora's Butterfly Sunrise Bouquet (Available on Teleflora.com for $49.95)
Playful and sweet just like mom, this brilliant bouquet of peach roses, yellow alstroemeria, and lavender chrysanthemums will make every mom's heart flutter with happiness. This 2-in-1 gift also serves as a darling oversized keepsake mug (FDA-approved and food safe) adorned with dancing watercolor-hued butterflies for long-lasting enjoyment.
Teleflora's Painted Blossoms Bouquet (Available on Teleflora.com for $39.95)
Surprise sisters, daughters, and new moms by showering her with a bright, joyful floral bouquet bursting with a lovely medley of orange roses, yellow alstroemeria, and brilliant pink carnations. Arrives professionally-arranged in this delicate pink ceramic cube vase with painted blossoms complement the fresh blooms of spring!
Anything to Add? Leave a Comment!