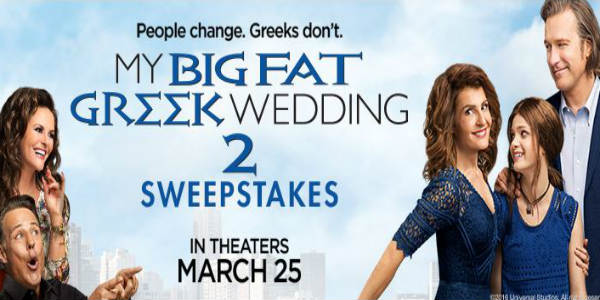 Win a My Big Fat Greek Wedding 2 Prize Pack & $500 Gift Card!
Who wants to enter a fun and new sweepstakes? I do, I do! Hurry and enter the MovieTickets.com "My Big Fat Greek Wedding 2" Sweepstakes! The grand prize winner, will receive:
One $500 Visa Gift Card
One Set of 4 Wine Glasses
One Cosmetic Bag
One Dancing Zorba's Apron
One Dancing Zorba's Mug
One My Big Fat Greek Wedding 2 DVD
One My Big Fat Greek Wedding 2 shirt
One Magnetic Poetry Set
One Magnetic Frame
One Tote Bag
Isn't this a crazy amount of stuff? You'll be receiving 10 freebies for winning, wohoo! Second place winners will receive a $100 Visa Gift Card, Zorba's Mug, and more!  Enter by 11:59 PM ET on March 27, 2016. You must live in one of the 50 U.S. States or D.C. to qualify, so keep that in mind before entering. Good luck to all of our readers! Let us know if anyone wins!
Anything to Add? Leave a Comment!