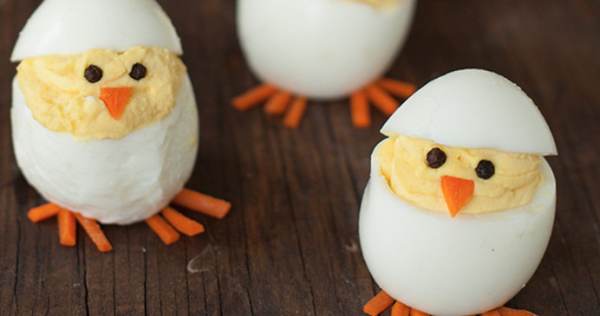 Easter Deviled Eggs Recipe
Lets face it, there will be a surplus of boiled eggs around your house toward the end of the month.  That is why this deviled eggs recipe will be very useful to you!  I saw these hatching chicks deviled eggs and I had to share! They are too cute and would be a perfect addition to any Easter brunch or potluck you are attending.
Deviled Eggs Recipe
Ingredients:
12 large eggs
1 tablespoon salt
1/4 cup regular mayonnaise, more or less to taste
1 tablespoon Dijon mustard
1 tablespoon sweet or dill pickle relish
Kosher salt and freshly cracked black pepper, to taste
1/4 teaspoon of Cajun seasoning, or to taste
Paprika, for garnish (my mom always called this "pretty powder")
Instructions:
Place eggs in a sauce pan.
Cover with water and bring to a full, rolling boil for about 15 minutes on high.
Carefully drain the pot and rinse with cool water until the feel cool to touch.
Peel the eggs and cut in half lengthwise.
Remove the yolks and place into a bowl.
Using a fork, mash the yolks well.
Add mustard, pickle relish, salt, pepper and Cajun seasoning and stir together, adding only enough of the mayonnaise for desired consistency (creamy).
Pipe the yolk mixture into the egg whites using a pastry bag, or place into a plastic storage bag and snip off the corner.
Dust with paprika for garnish.
To make the chicks:
While the eggs are cooling, prep your beaks and feet.
Use a julienne peeler, which makes things go much faster, but you can also use a knife. Julienne part of a carrot into matchsticks, and then use a knife to slice the matchsticks into 1/2-inch pieces. You will need seven pieces per chick.
When you're ready to make your chicks, crack the egg all over with a spoon. I like to use a spoon with a slightly pointed tip, which is really helpful in the next step.
Once your eggs are peeled, it's time to shape them. Lay the egg on its side, and cut a small slice off the bottom (flatter) end. This gives it a base to stand on. You can eat that little slice now, since you won't need it. Then cut about 1/2 – 3/4 inch off the top (pointy) end. This end piece is going to be the top of your chick.
Scoop all the yolks out of the eggs (don't forget the tops too), and mix them with the filling ingredients. Put your filling into a plastic bag with a corner end snipped off, and pipe it into your eggs.
Place a top slice of egg white on each chick, and add two peppercorns and a piece of carrot to make the face. You may find it easier to use tweezers for these tiny pieces.
Arrange the eggs however you would like to serve them, then add feet by slipping the remaining slices of carrot under their bodies. Again, tweezers can help with this step. Place three pieces together on each side to make the feet.
Refrigerate until ready to serve, but try to serve them within a couple of hours to keep the yolks looking fresh.
Thanks, sheknows!
Anything to Add? Leave a Comment!