In my home pizza is ALWAYS a crowd pleaser, no matter the time of day or the form it comes in. Here are 5 pizza hacks that are pretty easy to make and will shake things up in the pizza department.  All of these are a must-try in my opinion. Scroll down and get ready to drool, these all look simply delicious.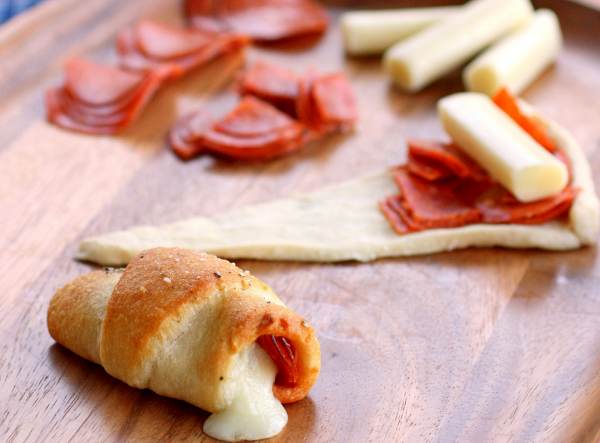 Pizza Croissant Rolls
Ingredients
1 (8 ounce) package refrigerated crescent roll dough
4 cheese sticks, halved
1 (3.5 ounce) package sliced pepperoni
optional – marinara or ranch sauce for dipping
Garlic Butter Glaze:
2 tablespoons butter, melted
½ teaspoon Italian seasonings
¼ teaspoon garlic powder
1 Tablespoon grated Parmesan cheese
Try an Easy One Pan Italian Pasta Recipe.
Instructions
Preheat oven to 350 degrees.
Take each triangle of crencent roll dough and place about 6 pepperoni on the bottom of the triangle.
Place half of a cheese stick on top and roll up. Place seam side down on a cookie sheet and bake for 10
14 minutes or until golden brown.
While rolls are cooking, combine the melted butter, Italian seasonings, garlic powder and Parmesan cheese in a small bowl.
When rolls are done remove from the oven and brush with the garlic butter glaze. Serve with marinara or ranch for dipping.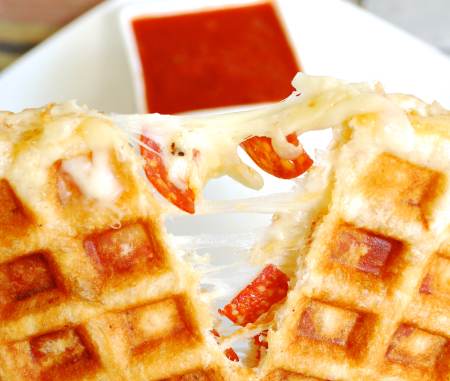 Stuffed Pizza Waffles
Ingredients
1 recipe pizza dough
8 ounces mozzarella cheese, sliced
Sliced pepperoni, cut into quarters
Marinara sauce for dipping
Instructions
Instructions
Preheat your waffle iron.
Roll out the pizza dough on a lightly floured surface and cut into equal sized squares, about 3″ x 3″ but it doesn't have to be exact.
Lay the sliced mozzarella in the center of the dough, being generous with the cheese because some will leak out.
Add the pepperoni, then top with another square of pizza dough.
Place on the waffle iron and close the lid, pressing down firmly but do not lock the lid. The lid will raise slightly while the dough cooks, but that is fine.
Cook for about 5 minutes, or until the dough is golden brown.
Serve with marinara sauce for dipping.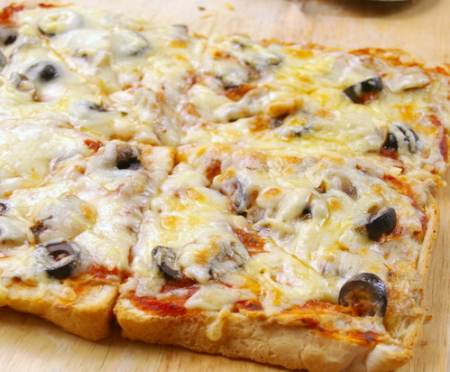 Poor Mans Pizza
Slices of bread or flour tortillas (or both)
Pasta sauce
Pepperoni
Red onion, chopped
Bell pepper, chopped
Dashes of Italian seasoning, Onion powder, Garlic powder
Parmesan Cheese
Shredded cheese (mozzarella or cheddar)
Instructions:
Place your tortillas or slices of bread on baking sheet.
Spread with pasta sauce.  Add pepperoni, vegetables, herbs and spices.
Sprinkle with cheeses.
Bake at 400 degrees for 4-5 minutes until cheese is melted.
Pure deliciousness!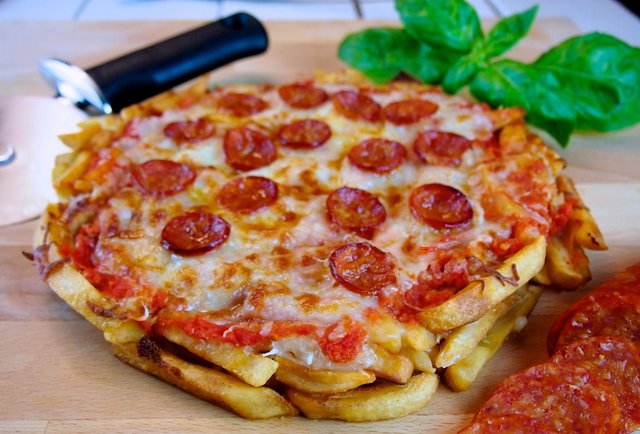 Pizza Fries
Ingredients
1 1/2 Cup frozen fries, baked or deep-fried
2 Tablespoons diced pepperoni
1/4 Cup marinara sauce
Pepperoni slices, for garnish
1/2 Cup shredded mozzarella cheese, or more if needed
Instructions
Preheat the oven to broil.
In a small bowl, toss the fries with the diced pepperoni.
Add the fry-pepperoni mixture to a fry boat or shallow bowl.
Top with the marinara sauce, a few slices of pepperoni, and the mozzarella cheese.
Broil in the oven until the cheese is melted and bubbly, about 1 minute.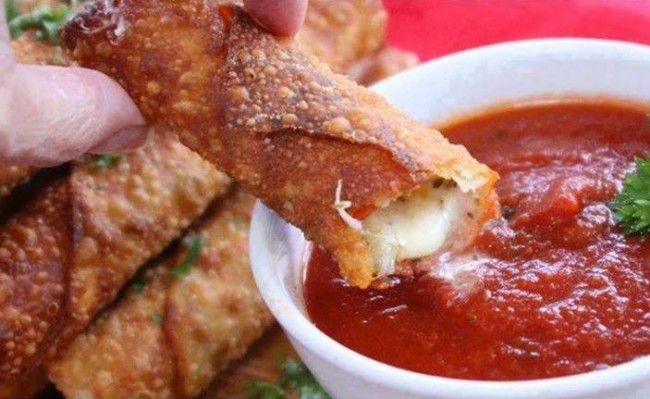 Pizza Eggrolls
Eggroll wrappers
Pepperoni slices
Mozzarella st
ring cheese
Dried oregano
Peanut oil for frying
Pizza sauce for serving
Orient the wrapper with the points facing you, as a diamond shape.  Not like a square. Lay several pepperoni slices out in the middle of the egg roll wrapper, overlapping them a little.  Unwrap and lay the mozzarella string cheese out on top of the pepperoni.
Season generously with dried oregano.
Wet the edges of the wrapper.  Fold in the side points closest to the cheese.
Wet the folded sides with your finger, then fold up the point closest to you over the cheese.
Make sure the far point of the wrapper is wet , then roll the whole thing away from you, sealing the wrapper.
Allow the rolls to "dry" on parchment while you are prepping the rest of the rolls.
Fry in peanut or canola oil for about 2 minutes each.  I had my oil at about 375 degrees F.  If your rolls do not immediately start sizzling, your oil is not hot enough.
Drain on paper towels and serve with warm pizza sauce.
Thanks, the-girl-who-ate-everything, mykitchenescapades, myblessedlife, thedailymeal, menumusings!
Anything to Add? Leave a Comment!