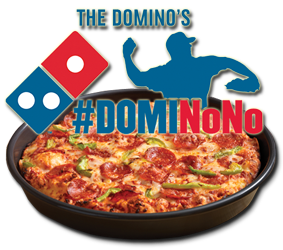 You can get a FREE Domino's Medium Handmade Pan Pizza at 3PM EST
MLB and Domino's Pizza are offering individuals with MLB.com accounts the opportunity to receive a promotional code for one (1) medium two-topping Handmade Pan Pizza for a carryout order upon the occurrence of the first and second MLB 2015 regular season No-Hitter games.
Reminder: This offer will go live on Monday August 24th at 3PM EST for the first 20,000 people. *Just be sure that you sign up for a free MLB.com account this way you will be already for when this offer goes live because it will probably go very fast.
When a pitcher throws a no-hitter this season, visit MLB.com/Dominono and enter your mlb.com account after, THE FIRST 20,000 MLB.COM USERS TO ENTER THEIR MLB.COM ACCOUNTS will receive a code valid for a FREE Domino's Medium Two-Topping Handmade Pan Pizza.
On the first (1st) business day following a No-Hitter, Eligible Fans must go to MLB.com/dominono beginning at 12:00 pm (noon) PDT and while supplies last and register by submitting his/her MLB.com username and password. Upon verification of eligibility, MLB.com will email Eligible Fans the promotion code to the email address associated with his/her MLB.com account. Any attempt by an Eligible Fan to obtain more than one (1) promotion code per No-Hitter may void that Eligible Fan's promotion code request and that Eligible Fan may be disqualified. MLB.com is not responsible for email which is returned as non-deliverable or filtered or deleted by particip
Anything to Add? Leave a Comment!