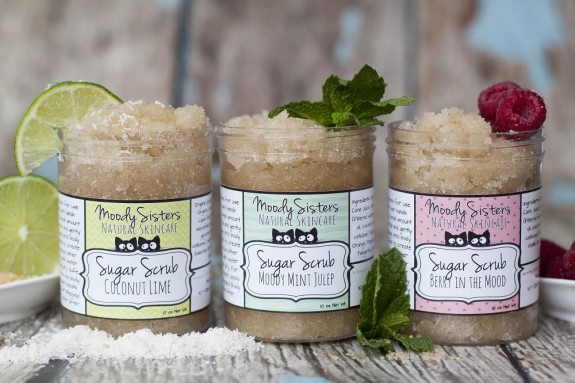 Enter for your chance to WIN 1 of 2 Moody Sisters Deluxe Sugar Scrub Gift Sets!!! This is a Thrifty Momma Exclusive, so your chances of winning are great! Just list your Email, First and Last Name, and you'll be entered to win!!!
The winner will be announced on this Thursday at 9:00PM Central!
If you're ready to rock your skin, love the planet and save your pocket-book, you've come to the right place!  Each product created came from a need — whether it be Blemish Serum for your teen's troublesome oily skin, Dry Skin Cream for your sensitive skin or organic Dry Shampoo for those days you never do make it to the shower.  Moody Sisters Skincare is handcrafted in small batches to make the freshest natural skin and color products, safe for your whole family.   No chemicals, fragrances, dyes, sulphates, or parabens — we're all-natural, baby!
You can read more about us here: http://www.moodysistersskincare.com/our-story
Product Description:
This ain't yer average body sugar scrub and you're not going to be able to DIY this in two steps. This luxurious natural foaming body sugar scrub is made with moisturizing skin loving oils, blended with an organic liquid foaming soap to cleanse and organic evaporated cane juice to exfoliate. Each organic sugar scrub leaves your skin rejuvenated and refreshed and is an all in one body and facial wash and exfoliation. The perfect all natural one two punch for normal to oily skin with no additional moisturizing needed.
You can immediately improve your skin's tone, texture, and feel with each Organic Body Sugar Scrub use and you'll get plenty with this large 10 oz net wt. jar. Gently scrub and naturally exfoliate while creating a light foaming lather. Save time and money with this Organic All Natural Foaming Sugar Scrub scented with only pure essential oils and natural fruit extracts.
Each gift set comes with a Coconut Lime, Berry in the Mood and Mint Julep Scrub and has a products feature card plus a stir stick.
For more info on scrubs: http://www.moodysistersskincare.com/store/foaming-sugar-scrub
Anything to Add? Leave a Comment!