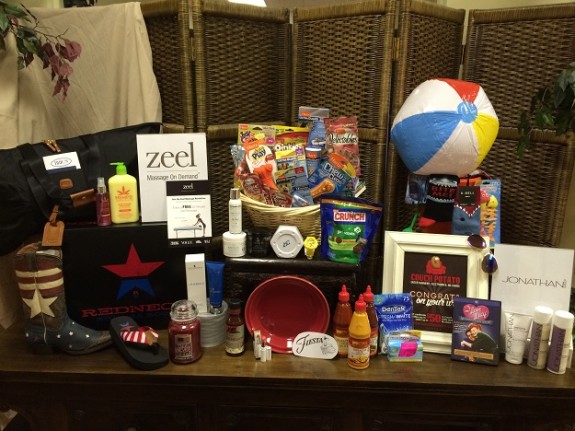 Enter to WIN Entertainment Tonight Summer Gift Bag Giveaway
For USA only age 18 years and older.
Giveaway ends tonight on June 29, 2015 at 11:59pm PDT. 
One Winner will receive the following prize pack:
Gochujang, a traditional Korean chili pepper paste hot sauce born more than 1,000 years ago, delivers dynamic flavors, and is a complex, yet well balanced blend of sweet, spicy and savory flavors. Bibigo's new all-purpose Gochujang Hot Sauce is extremely versatile, and can be used to add spice to everything from soups and stews, to fresh vegetables and marinades.
• BRIC'S Italy – Our 22 inch X-Bag folding duffle is 2 bags in 1. The perfect eXtra Travel Bag that looks good, and travels better.
• Casio Baby-G– Creatively inspired by the beaches of the world, the BGA-190 timepieces simultaneously show the Home time and World time, perfect for keeping in touch with family and friends back home while on the road. Equipped with water and shock resistance, world time, and a stopwatch, these timepieces are perfect for hiking the Himalayas and cruising the Caribbean!
• CouchPotato.Com- $50 Gift Certificate redeemable for the very best in Movies and TV in Blu Ray and DVD
• Help keep your smile bright this summer with DenTek Fresh & White Floss Picks and for the flosser on-the-go, keep DenTek Floss Picks + Case in your pocket, purse or suitcase to ensure you are never stranded with food in your teeth.
• Era Organics' Complete Moisturizer, Cleanse + Restore and Dead Sea Mud Therapy combine to nourish your skin with all the different vitamins, minerals and amino acids it needs for optimum health and healing. Enjoy the best of nature, perfected through science.
• The Fiesta Dinnerware Deep Dish Pie Baker in Scarlet is dishwasher, oven, and microwave safe. Fiesta Dinnerware is lead-free, comes with a 5 year chip resistant warranty and is made in the USA.
• Look and feel like Hollywood this summer in Foster Grant sunglasses. For the many shades of you!
• Hartz, experts in flea & tick solutions for over 55 years, is providing #NOFT Pet Gift baskets which include everything needed to protect pets from fleas & ticks and encourage year-round care. Each basket features the brand's best prevention product; Hartz® UltraGuard Pro® Flea & Tick Drops for cats and dogs.
• Take your skin on a summer vacation with Limited Edition Hempz Goji Orange Lemonade Herbal Body Moisturizer and Pink Berry Lemonade Hydrating Herbal Body Hair & Body Spritzer. Enriched with 100% Pure Natural Hemp Seed Oil and Signature Citrus complex to help leave your skin feeling hydrated, conditioned and revitalized.
• Achieve silky, smooth, frizz-free hair with JONATHAN PRODUCT WEIGHTLESS SMOOTH No-Frizz collection, formulated with hydrolyzed keratin protein and platinum peptides to strengthen hair and repair individual strands. Infused with Essential Basil, Sage and Lemongrass Water for beauty and health of your hair.
• K. Bell is releasing an exclusive legwear collection in collaboration with the highly anticipated third installment of the popular Sharknado movie series, Sharknado 3: Oh Hell No! K. Bell has a variety of fashion and novelty legwear for men, women and kids.
• Lancôme – Shine Lover is lipstick that provides the hydration of a balm, the color pay off of a lipstick and the shine of a gloss. Available in 19 gorgeous shades!
• Sriracha lovers everywhere will love Lee Kum Kee's Sriracha Chili Sauce, Sriracha Chili Ketchup and Sriracha Mayo! These sauces are great for sandwiches, wraps, dips, spreads and more, and will give any dish a feisty bite!
• Enjoy summer with the refreshing taste of the Thin Mints® Nestlé® Crunch® Girl Scout Candy Bars – dark chocolate cookie wafers and mint chocolate crème, topped with airy crispies and a rich, dark chocolatey coating make for a heavenly summer treat. Also available in Peanut Butter Crème and Caramel & Coconut varieties, get these limited-edition treats while you can because once they're gone, they're gone!
• The Freedom American Flag Boot by Redneck Riviera Boots is a fresh take on patriotic fashion. Show your love for America with this Square Toe Cowgirl Boot by Redneck Riviera.
• Skin Research Laboratories neuRADIANCE is an easy-to-use face, neck and décolleté polish with a unique action system that helps boost cell turnover and moisturize skin. It helps bring out your skin's best and glowing appearance by transforming dull, dry or uneven complexion.
• The Yankee Candle Company, Inc. – Ring in Independence Day with Gratitude Never Out of Style, from Yankee Candle's new Homefront Girl collection benefiting military charity Homes For Our Troops. Featuring a label designed by career officer's wife Gaby Juergens and Yankee Candle's Watermelon Splash fragrance, this cool Independence Day favorite is a reminder of bold American spirit.
• Zeel Massage On Demand® delivers top-quality massages from licensed, vetted massage therapists to homes, hotels, workplaces, and events in as little as an hour, or up to a month in advance.
Anything to Add? Leave a Comment!