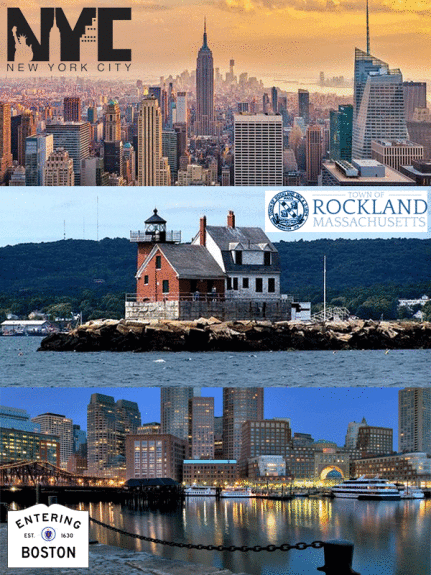 The Northeast United States is a region known for its diverse cultures, history, and exciting travel destinations. Because of this, the Northeast is an excellent place to travel to for vacation. Here are the top three locations to travel throughout the Northeast United States.
New York City, New York
As a location that is commonly represented in movies, TV, and other media from across the world, New York City is a location that should be visited at least once. This popular city is filled with global cultures, interesting attractions, and delicious foods that are appealing to a wide array of travelers. Visitors of New York should be sure to visit Chinatown for authentic Chinese cuisine and shopping. The other neighborhoods such as Hell's Kitchen and West Village also offer plenty of options for gourmet cuisine and unique restaurants. Visitors of New York City can also enjoy various historical and cultural attractions. The most popular attractions include the Empire State Building, the Statue of Liberty, Carnegie Hall, the Cloisters, the Metropolitan Museum of Art, and the Museum of Modern Art. Travelers can learn more about visiting New York City by consulting the NYC travel guide at Hipmunk and other sites.
Rockland, Maine
Rockland, Maine is a waterfront community that is ideal for travelers with a love of food and the ocean. Throughout much of the year, Rockland is a quiet city, but there are several attractions that are enjoyable to lovers of art and history. The most popular tourist attractions include the Farnsworth Art Museum, the Stephen Taber, Victory Chimes, Lewis R. French and the Issac H. Evans. Visitors to Rockland can also enjoy many nearby beaches and other natural tourist spots. Sailing charters and water sports are among the most popular activities for travelers who visit Rockland. The most exciting reason to visit Rockland is the city's Lobster Festival. This festival includes a wide variety of activities such as running races, cooking competitions, live music, and a parade. Along with these exciting activities, participants of the Maine Lobster Festival can feast on some of the most popular lobster and seafood dishes. These include grilled lobster tail with gnocchi, lobster benedict, lobster rangoon, and many other options that are prepared by local chefs.
Boston, Massachusetts
Boston is a city that serves as the heart and soul of American history. From revolutionary protest to American political history, Boston is birthplace of many important American moments. Because of this, Boston is certainly a place that history buffs will enjoy. Boston is also home to many exciting popular tourist destinations. These locations include Boston Harbor, Fenway Park, the Museum of Fine Arts, Faneuil Hall, the New England Aquarium, the USS Constitution, and more. Boston also hosts various popular events such as the world famous Boston Marathon and the Boston Calling Music Festival. Visitors of Boston can also enjoy tasty foods at various top restaurants. Boston's restaurant scene has a large selection of cuisine ranging from gourmet French to simple American.
These locations in the Northeast United States are ideal for travelers with many interests, so visitors are sure to experience memorable adventures.
This article was written and provided by Fiona Moriarty of Hipmunk, the ultimate platform for all your travel needs.
Anything to Add? Leave a Comment!