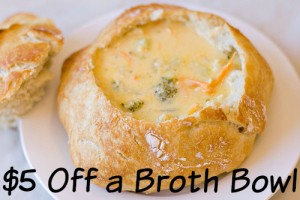 Panera Bread: $5 Off Your Next Broth Bowl
PaneraBread.com is offering $5 Off their Broth Bowl when you follow the instructions below.
1. Select 3 of the videos and watch (approximately 1-minute or less each)
2. The $5 off Broth Bowl reward will be loaded to your Panera Card, and viewable in your MyPanera Dashboard
3. Select and watch the remaining 3 videos to receive a free coffee, tea or soda (also loaded to card upon completion)
Note, if you do not have a physical Panera Card, the card number is viewable under "Account Information".
Must be redeemed by 3/11/2015 (or 2-weeks from date earned).
Anything to Add? Leave a Comment!