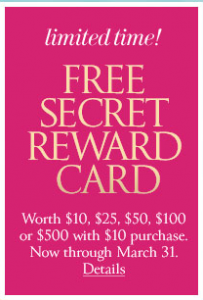 You can get a FREE Victoria Secret Rewards Card by mail!
Enter by mail without making a purchase by hand-printing your full name, address, valid email address, and date of birth on a 4" x 6" piece of paper, and mailing it in a sealed #10 envelope with proper postage to Promotions Team, c/o The Marketing Arm, 1999 Bryan Street, Suite 1800, Dallas, TX 75201 ("Mail-in Entry").
All eligible entrants who are residents of the US, PR and Canada may enter by mail without making a purchase by following the Mail-in Entry process described above. Mail-in Entries must be postmarked by March 30, 2015, and received by April 8, 2015 in order to be eligible. iv. Once your fully completed Mail-in Entry is received, you will be sent one (1) Secret Reward Card via email within fourteen (14) business days to the email address you provided in your Mail-in Entry. No photocopied, computer generated facsimiles, mechanically reproduced, or mass entries permitted. All entries become the exclusive property of Sponsor and will not be acknowledged or returned. Proof of sending or submission will not be deemed to be proof of receipt by Sponsor.
Anything to Add? Leave a Comment!