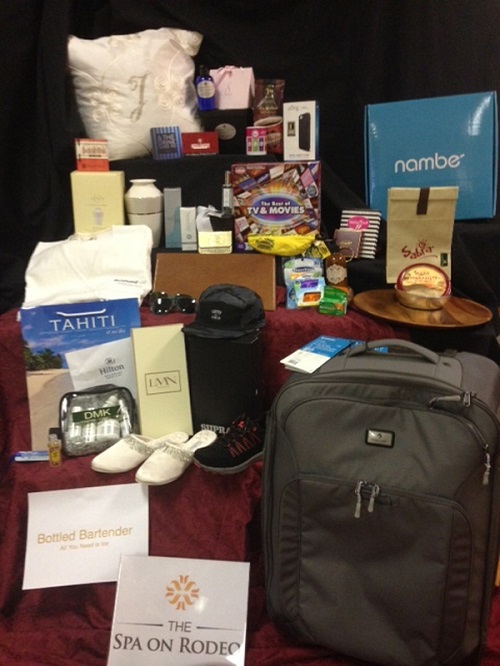 Enter DAILY for a chance to win Gift Basket from TV's Hottest Awards Show Sweepstakes
All entries must be received no later than 11:59 p.m. (EST) on August 31st, 2014. Only one Internet entry per person and per e-mail address, per day will be accepted
Gift Bag Will Contain:
Cold Stone Creamery- Cold Stone Creamery® delivers the Ultimate Ice Cream Experience®. The secret recipe for smooth and creamy ice cream is handcrafted fresh daily in each state, then customized by combining a variety of mix-ins on a frozen granite stone.www.ColdStoneCreamery.com
Hilton Bora Bora Nui Resort & Spa- In a draw dropping, bucket list getaway gift to the Emmy notables, the Hilton Bora Bora Nui is giving away a four night certificate for one of the resort's Presidential Villas – the ONLY two-story overwater bungalows in French Polynesia! With 180°ocean views, a private plunge pool, massage room and sauna, the 2 bedroom, 2 bath villa also features an outdoor Jacuzzi and gazebo on the top deck. Prize contains Tahiti luggage tag and Monoi Tiki Tahiti oil. www.hilton.com/frenchpolynesia
Josh Johnson Home for Softline- Decorative luxury accent down pillow collection with custom celebrity monogram. www.softlinehome.com/sparkle-josh.html
La Valenica Hotel- If La Jolla is the Monte Carlo of California, then La Valencia is her palace. Towering over a curvaceous coastline, the Mediterranean-inspired classic pink hotel has played host since 1926 to film stars, writers, social icons and sun-worshippers in her graceful terraced gardens, mosaic accented courtyards, lively eateries and her many rooms with a view. Prize includes a La V hat. www.lavalencia.comMarchon– Calvin Klein is Made-in-Italy and represents the cutting edge in eyewear technology- extreme lightness and material flexibility, combined with sophisticated materials that make them absolutely unique. www.marchon.com
Nerium International- NeriumAD® Age-Defying Night Cream is the next generation of skincare. Developed with exclusive, patented technology NeriumAD is clinically proven to help skin look younger, smoother and more radiant. NeriumFirm Body Contouring Cream,a favorite of celebrities and personal trainers, is the go-to body firming product. The powerful formula helps reduce the appearance of cellulite, as well as, smooth and tighten skin on problems areas like arms and thighs.www.mynerium.com
Pong Case – Pong cases, built for today's most popular smartphones and tablets, reduce exposure to potentially harmful wireless energy while also optimizing a device's outbound signal strength. Pong cases are available at Bestbuy.com and Best Buy Mobile Specialty Stores. www.pongcase.com
RICHMOND NUA SPA, TURKEY – Nestled between lake and forest just over an hour from Istanbul, Richmond Nua is Turkey's only destination spa. Located on the peaceful shores of beautiful Lake Sapanca, the 131 room hotel/spa is known for its personalized weight loss programs and an extensive treatment menu in its 29,000 square foot spa, with a centerpiece of a 12-station water therapy circuit featuring everything from a Finnish Sauna to salt water Jacuzzis and an Aqua Cave Grotto. Prize includes a luxurious robe. www.richmondnua.com
Sabra Hummus- Sabra Dipping Company, LLC is a leader in the refrigerated dips and spreads category and of America's top-selling hummus. www.sabra.com
Spin Master's The Best of TV & Movies- From Life of Pi to Family Guy, the Best of TV and Movies Game is packed with logos, pictures, and over 1500 questions about everyone's favorite shows and movies. If you answer correctly, move forward on the board. Reach the Winning Space first and successfully answer a final question to win!www.spinmastergames.com
Tim Hortons Dark Roast Coffee- Tim Hortons new Dark Roast coffee, the first new coffee blend in Tim Hortons' 50-year history. www.timhortons.com
TRIADA PALM SPRINGS- With three distinct wings designed with their own artistic palates, TRIADA is a newly recreated, 56-room hacienda style hotel in the prestigious Movie Colony of Downtown Palm Springs. Featuring majestic views of the San Jacinto Mountains, spa suites and spacious pools, the former "Spanish Inn first opened in the 1920's has been reborn as a modern Mediterranean getaway and member of Marriott's Autograph Collection. Prize includes a luxurious robe. www.triadapalmsprings.com
Waltzing Matilda USA- Handcrafted Goods Made in America. www.waltzingmatildausa.com
b4- Created by Midway Advanced Products, b4 is committed to giving 50% of the profits from the sale of our unique wellness products to children-focused causes through The Midway Foundation. Filled with eye-popping, boldly colored single-use gel hand sanitizer packs, these cylinders are perfect for on the go and fit conveniently into your car drink holder and is specially formatted to kill 99.9% of germs and bacteria. www.b4products.com
Bananagrams- Bananagrams WildTiles® includes six monkey WildTiles, putting an all-new spin on the original Bananagrams racing crossword game. Now, with Bananagrams WildTiles, as players race to complete their grids, they can pick up a WildTile and play it as many times as needed, standing in for any letter. WildTiles change the game! www.bananagramsgowild.com
AESTECH INDUSTRIES LLC BEAUTIFOOT- Chemical exfoliator peel for feet.www.beautifoot.com
Bayer Health Care, Makers of Berocca®- Berocca is a vitamin mineral supplement in an effervescent tablet that when dropped into a glass of water, unleashes fizzy, refreshing infusion with key ingredients that provide mental sharpness and physical energy. Berocca is powered with guarana and caffeine to support mental sharpness and B vitamins to support physical energy by helping convert food to energy. www.berocca.com
Cocoa Dolce Artisan Chocolates- You've scored some delicious handcrafted chocolates that will ignite your taste buds! Use the $25 gift card to purchase your new favorites and score again! www.cocoadolce.com
The Container Store- The Container Store's Eagle Creek™ Grey 25" 2-Wheeled Luggage and Blue 25" 4-Wheeled Luggage: The Container Store's 25" Eagle Creek Luggage is exceptionally easy to use and a durable choice for wherever your travels take you.http://www.containerstore.com/sho…7043&N=248
DenTek Oral Care- Comfort Clean: Gentle on teeth and gums while comfortable removing food and plaque. http://www.dentek.com/products/vi…ks-5/Floss Picks + Case: For the flosser on-the-go. Don't get stranded with food stuck in your teeth!http://www.dentek.com/products/vi…-cases-30/ www.DenTek.com
Danné Montague-King DMK®- Foamy Lift Masque works to gently exfoliate and remove impurities and debris as well as brighten and tighten the skin. Foamy Lift Masque allows you to maintain optimal skin functioning between DMK treatments. Use in combination with Exoderma Peel for DMK's best at home skin conditioning masque.www.dannemking.com/products/foamy-lift/
Faradee®- The Faradee® Credit Card Case is a state-of-the-art, dual function credit card case designed with two pockets. It protects the credit card from electronic pickpocketing and the abuses of credit card information (i.e. digital theft) as well. www.faradee.com
Invitation Consultants- Personalized coasters from Invitation Consultants are more than a pretty spot to place your drink. These customizable coasters add a truly unique touch to your tablescape cocktail hour. www.invitationconsultants.com
L'eclisse Cosmetics- Our silky-sheer, translucent blush creates a soft, radiant look with subtle, natural colors. A super-soft, rounded head with an ample body makes the perfect hypoallergenic tool for applying blush. http://leclissecosmetic.com/produ…ral-blush/ http://www.leclissecosmetic.com/p…ush-brush/
LENOX CORPORATION- Hundreds of raised beads decorate the vase, forming a swirled motif against a pearlescent white, with platinum trim, giving this simple sophistication.www.LENOX.com
LMN/ Luxe Me Now- LMN (Luxe Me Now) is a new line of luxury slippers that are chic, feminine and versatile. With gorgeous fabrics and hand-sewn embellishments, LMN slippers are the perfect combination of comfort and style. LMN slippers are available online atwww.lmnonline.com & Saks Fifth Avenue.
NOTE Frangrances- A Deluxe Fragrance Gift Box from NOTE Fragrances, a Boutique Perfumery and Custom Perfume Studio in Scranton, PA. http://www.notefragrances.com
Ranch Organics- Lavish in Handcrafted Botanical Luxury with Ranch Organics signature Lotions. www.ranch-organics.com
Ronaldo Designer Jewelry- Unique handcrafted bracelet designed by world-renown jewelry artist Ronaldo. www.ronaldojewelry.com
The Spa on Rodeo, Beverly Hills- Allow us to take you on an amazing journey, as your skin, body and well-being are the focus of our concern. www.TheSpaonRodeo.com
Sterling Health and Wellness- Artisan crafted small batch lotions and candles – designed and hand poured in Huntsville, Alabama. www.healthsterling.com
SUPRA Footwear- Centerfields panel; mark crew sock gift card. www.suprafootwear.com
Anything to Add? Leave a Comment!