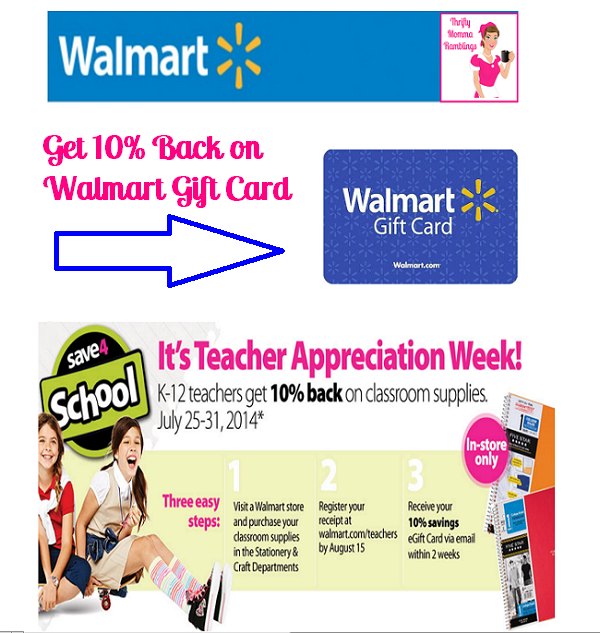 Teachers Walmart has a new program called Walmart Teacher Appreciation Week 2014 and it Starts this Friday July 25, 2015 thru July 31st, 2014! You can get 10% Back on Classroom Supplies purchased at Walmart on a gift card!
This is a great way for teachers to buy the supplies you need for your classroom! This will be a Nationwide Program and is new for Walmart this year. I am glad to see it as it can be so expensive to buy all those supplies and a great way to help save even more money. Many teachers don't even get a classroom budget and all of it comes out of their own pocket.
HERE ARE DETAILS:
1) Visit a Walmart Store and Purchase your Classroom Supplies in the Stationery & Craft Departments (Must purchase between 7/25-7/31)
2) Register your receipt at Walmart.com/Teachers by August 15th, 2014
3) Receive your 10% Savings on an eGift Card via Email within 2 weeks!
If you need more information then Walmart Teacher Appreciation Page HERE . The offer is good on in-store purchases only. Purchases are valid on School Supplies in Walmart's Stationery and Craft Departments only (Excludes all other departments). Each transaction may be up to $10,000 so a maximum of a $1,000 gift card. There is a limit of $50,000 in purchases.
Anything to Add? Leave a Comment!