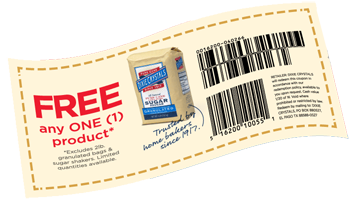 Enter for a chance to win FREE Dixie Crystals Sugar Voucher Coupon Giveaway (Good for up to $3.75 off any Dixie Crystals product).
There will be 3,500 Winners!
Just visit the offer page between 8 am and 8 pm CST on Tuesday, July 22, 2014 and complete the entry form.
Winners will be selected via a random drawing from all eligible winners.
Coupons are only good for in-store purchases only. Dixie Crystals is sold in stores in North Carolina, South Carolina, Florida and Georgia. Imperial Sugar is sold in stores in Texas. It may occasionally be found in external markets including Oklahoma and Louisiana. Only attempt to secure the coupon that is applicable to the product sold in your local stores. Securing coupons for products outside of their respective distribution/sales markets should be avoided as they will not be redeemable.
Anything to Add? Leave a Comment!