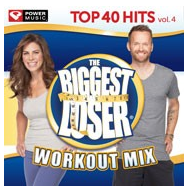 You can get a FREE The Biggest Loser Workout Mix Top 40 Hits Vol. 4 Song Downloads
Just enter code FREEBL4 and then click download.
Song Downloads Include:
1) Hey Soul Sister by Train
2) Half of My Heart by John Mayer feat. Taylor Swift
3) Cooler Than Me by Mike Posner
4) If We Ever Meet Again by Timbaland feat. Katy Perry
5) Wavin' Flag by K'naan
6) Dynamite by Taio Cruz
7) Undo It by Carrie Underwood
8) Ridin' Solo by Jason Derulo
9) I Like It by Enrique Iglesias feat. Pitbull
10) Young Forever Jay-Z feat. Mr. Hudson
11) Somebody To Love by Justin Bieber
12) Alejandro by Lady GaGa
13) California Gurls by Katy Perry
Anything to Add? Leave a Comment!