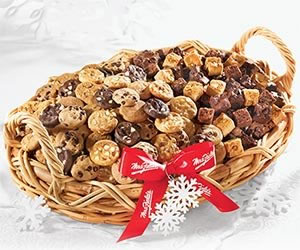 Enter for a chance to win Kudosz Mrs. Fields Cookies Deluxe Sweepstakes
One lucky winner will receive the Mrs. Fields Cookies Deluxe Basket!
Ends on 4/02/14 and USA only. Good Luck!
Mrs. Fields Cookies Deluxe Bites Gift Basket 144 Nibblers & 72 Brownie. It's an instant party when this gift arrives. A fabulous pairing of 144 Nibblers bite-sized cookies & 72 Brownie Bites. Includes: Milk Chocolate Chip Nibblers, Cinnamon Sugar Nibblers, Oatmeal Raisin Walnut Nibblers, White Chunk Macadamia Nibblers, Semi-Sweet Chocolate Chip Nibblers, Triple Chocolate Nibblers, Rainbow Chip Nibblers, Peanut Butter Nibblers, Double Fudge Brownie Bites, Toffee Fudge Brownie Bites, and Butterscotch Blondie Brownie Bites.
Anything to Add? Leave a Comment!