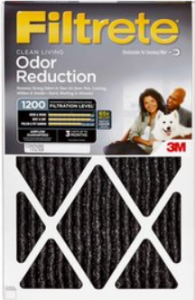 Disclaimer: I am part of the Mom It Forward blogger network. Mom It Forward and Filtrete Filters by 3M partnered in support of this campaign. Filtrete Filters by 3M sent me a year supply of filters for participation in this campaign. However, all thoughts and opinions are my own.
The holidays are finally here which also means lots of cooking, fireplaces burning, heaters running, and candles burning! Not all of these smells are something you want running through the entire house. I have had this wonderful filter installed in my house for three months! I was so surprised at how much better the house smelled. I could definitely tell the air was being rid of those odors and we live in an older home so this was really amazing. I even had family that would come over and tell me the house smelled fresher than usual and what cleaner was I using. They were shocked to learn it was the 3M Odor Reduction Filtrete Filters making the difference.
The filter is made of activated carbon which helps to remove odors such as: pet, smoke, cooking, mildew, and cleaning chemicals! If you have pets then this is a great filter to use. Even better it has electrostatically charged fiber which attracts and captures microscopic allergens like pet dander, smoke, household dust and microscopic particles that we can't see in the air. I know I have more peace of mind using this filter to keep the air quality in my house better for my family. This is extremely important in the winter months with so many viruses and germs in the air. I would have to say that I would definitely buy them again as it was nice not having to change a filter monthly.
These filters are also just as good to use in the winter months to help keep trapping all those smells and particles in the air. You can find these filters at most retailers such as Walmart, Target, Lowe's and Home Depot. If you want to learn more about these great filters then visit Filtrete Filters by 3M Website and also find a local store near you. You can also follow them on 3M Twitter Account and on their 3M Facebook Page. If you go their Facebook page then make sure you sign up for their newsletter to get coupons, tips and tools for a healthier home right your inbox. I love saving money!
Anything to Add? Leave a Comment!