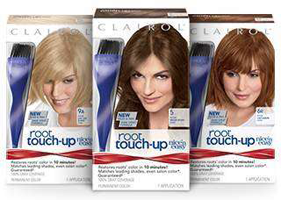 Get a FREE Clairol Root Touch-Up Product in Spanish
Click on the big button that says "Pide Tu Cupon" which means Request Your Coupon!
The site is in Spanish but the form is as follows:
Nombre -First Name
Apellido -Last Name
Direccion -Address
Ciudad -City
Estado -State
Correo Electronico -email
Fecha de Nacimiento -birthdate
Español:
====>GRATIS de Clairol Root Touch Up color para el cabello!<==== *Debe ser un miembro de Orgullosa; cantidades limitadas disponibles. Se enviará sólo un sobre por miembro. El cupón de descuento es para una caja GRATIS de Root Touch-Up de Nice 'n Easy y dos cupones de descuento de $2.00 para compartir con amigas. Por favor, espera de 5 a 7 semanas para la entrega del sobre.
Anything to Add? Leave a Comment!