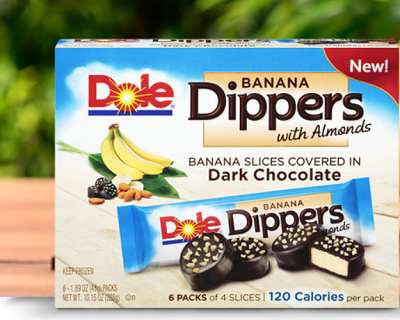 Disclaimer: I was compensated for this post and the DOLE Banana Dippers girls' night in. All thoughts and opinions are 100% honestly my own.
Who else needs a night off? Between school, housework, errands, and work I need a break! The sad part is school just started and I'm already burned out. So what is a girl to do when she is frazzled?! Eat chocolate of course!
I am super excited that Dole asked me to host a Girl's Night In for my friends and family! We get to indulge in a sweet treat without the worry of overindulging. NEW DOLE Banana Dippers only has 120 calories or less per serving. Decadent dark chocolate covering over real DOLE bananas to make a yummy froze treat. Yummy. It is also 90 degrees daily is perfect to help beat this summer heat.
I cannot wait for everyone else to try these delicious treats. This will be a wonderful way to end a hectic week of back to school with a fun treat that is also easy on the waistline. I will have pictures during and after the party. You can also learn more about DOLE Banana Dippers on their website.
Anything to Add? Leave a Comment!