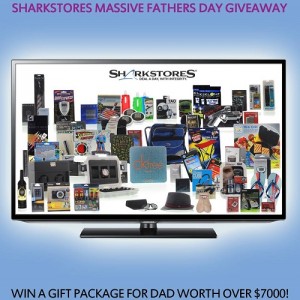 Enter for a chance to win SharkStores MASSIVE Fathers Day Giveaway
Win a MASSIVE Fathers Day gift basket worth over $7000! Loaded with absolutely amazing gifts, this package will thrill and delight Dads everywhere!
GUARANTEED DELIVERY BEFORE FATHERS DAY!
Sweepstakes is only open to residents age 18 and older residing in USA and Canada! Ends on June 10, 2013 @ 04:30 pm (EDT)
Good Luck!
Prize Details
Included in this package:
Electronics & Gadgets
Samsung 40″ LED TV (UN40EH50000F) $700
SWI Dual Automatic Watch Winder & Storage Box $600
Polaroid Underwater Digital Camcorder $80
AudioSnax X1 Bluetooth Speakers $60
iBDry Waterproof iPad Case $60
Mini Reminder Gadget $25
Totes Whistle Key Finder $20
Uniden D1688 Dual Handset Cordless Telephone Set $70
Dark Ops Remote Control Gun for Wii $49
Duracell USB Charging Adapter for Cars $30
Maxell Neoprene iPad Sleeve $25
Totes LED Headlamp $20
Xtreme Portable USB Charger $40
Tao Dual Balance Portable Speakers $30
Tube Lights with Clip – 2 Pack $20
Marathon Stopwatch with Radio $50
Widget Positionable LED Work Lights – 2 Pack $20
Talking Pedometer $30
Impecca Stylus Pen $10
Vibe Cube DJ Headphones $20
Vivitar Vivicam 16.1MP Digital Camera $75
The Sharper Image 2.8″ Touchscreen Music & Video Player $90
Philips Universal Remote Control $30
Xtreme HDMI Cable & Accessories Pack $30
DriCat Waterproof Case for iPhone $30
Fashion & Accessories
Invicta 12961 Jason Taylor Collection Reserve Chronograph Watch $2495
Nike MaxxOptics Black Sports Sunglasses $150
Joseph Abboud Ballistic Nylon Toiletry Case $50
Nike Genuine Leather Wallet with Logo Keychain $45
Nike Genuine Leather Custom-Fit Belt $60
Black Label Reversible Mens Scarf $60
Superman Cozy Fleece $35
Pamoa Lightweight Fedora Straw Hat $40
Budweiser Flip-Flops $20
The Original Flask Tie $30
Food & Kitchen
The Biggest Loser Mini Grill $90
5-Pocket BBQ Apron $30
Totes Flask $20
BBQ Hot Dog Rollers $15
Camera Lens Coffee Mug $20
5-Piece Wine Tool Set $20
Set of 3 Sauza Margarita Rimming Salts $20
Tactical & Outdoors
Beach Chair with Integrated Cooler $40
MySack Golf Ball Holder with 2 Golf Balls $20
Set of 2 Amazing Pocket Chairs $20
Set of 4 Carabiner Clip Water Bottles $25
Uzi Aircraft Aluminum Tactical Pen & DNA Extractor $50
Humvee Tactical Combo Kit $60
Uzi Professional Pink Steel Handcuffs $100
Humvee 12×25 Binoculars $35
Humvee Knife & LED Flashlight Set $60
Uzi SWAT Combo: Watch & Tactical Pen $50
Fragrances & Grooming
Calvin Klein CKfree Gift Set $60
Ferarri Uomo Cologne 3.3oz $65
Ferrari Light Essence Cologne 4.2oz $50
Calvin Klein Eternity for Men 1.7oz $45
Calvin Klein Eternity Aqua for Men 1.7oz $55
Bvlgari BLV for Men 1.7oz $90
Bvlgari Pour Homme Soir $90
Bvlgari Aqua for Men 1.7oz $90
Drakkar Noir for Men 1.7oz $60
Lolita Lempicka Au Masculin Wardrobe Gift Set $90
Lolita Lempicka Au Masculin Mini .17 $40
Axe Hair Care Travel Kit $30
100 Disposable Razors $75
6-Pack of Klenz Oversize Pre-Moistened Towels $25
Automotive
Goodyear Kleen-Mitt Car Washing Gloves $20
Totes Trunk Extender $25
Anything to Add? Leave a Comment!