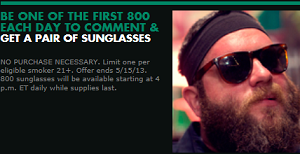 You can get a FREE Sunglasses from Marlboro daily!
Each day this will go live at 4PM EST for the first 800 people!
You will need to sign in and then click on offers.
NOTE: This offer may not be available to everyone! This ends on May 30th!
They will go fast! So keep trying daily.
You should see a little "1" pop up in the right corner(offers). Make a comment and you should get offered the sunglasses.
Anything to Add? Leave a Comment!