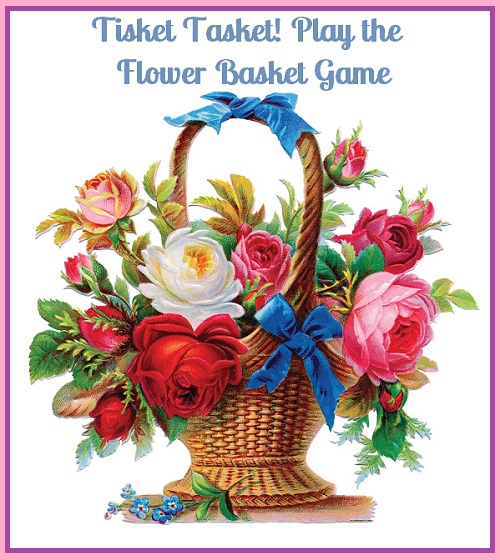 WOO HOO!! We have a new game for you to play this week! We wanted to celebrate all the special women in your life with a FUN NEW game called "Tisket Tasket Play the Flower Basket Game!"
You will be skipping between two blogs each day looking for flowers hidden somewhere on the blog. Find the flowers and win a prize!
Here is How to Play the Game:
1. Watch the 2 pages For each day listed below
2. search the blogs for the flowers (they can be anywhere in the blog)
3. find the flower and comment first
4. You will need to comment on the blog NOT on Facebook !!!!!
5. Here is where you may get lost in the garden hunting for flowers! You will need to be the first one to findand comment on BOTH flowers (there will be 1 hidden in each blog).
Here is the Schedule of Blogs to find the flowers daily:
Day 1 Tuesday: Donna's Deals and More & Couponing as a lifestyle & lots of Free Samples
Day 2 Wednesday: Thrifty Momma Ramblings & Sweet N Sour Deals
Day 3 Thursday: Coupon Cousins & Shawnies Samples & Savings
Day 4 Friday: Coupon Nurse & Coupon Crazy Sisters
Day 5 Saturday: Debbie Does Coupons & Couponshopaholic
There will be Lots of prizes to win and many chances to find flowers. One Prize per person. Let's keep it fun and please if you have an issue with a rule or the game. Message the page, do not post all over anyone's wall or be rude. We will not tolerate any negative or sore losers. It is a game and meant to be fun and give back to our fans. Thank you 🙂
You will also have a chance to win the grand prize. Just fill out form below and You will have a chance to win a Woman's Mystery Box of Goodies!
Starts 4/23/13 – 4/28/13 at 11:59 pm est!! Good Luck and Have fun!!!
Disclaimer: The Grand Prize will be sent by Thrifty Momma Ramblings. Grand Prize is for USA only.
Anything to Add? Leave a Comment!