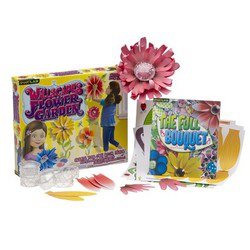 Enter for a chance to win a Smartlab Toys Wallscapes Flower Garden Craft Kit Trivia Wednesday!
One lucky winner will receive a Wallscapes Flower Garden Craft Kit! Kids can turn their bedroom walls into a beautiful garden using the kit's ready-to-assemble flower makers and petals for five different 3-D wildflowers, ranging in size up to nearly one foot in diameter! Plus, there are petal templates, glitter glue, rhinestones, and wall stickers of vines, leaves and bugs. Ages 4-12.
Just answer the trivia question and you are entered! Good Luck!
Ends tonight March 20th at 11:59PM PST!
Anything to Add? Leave a Comment!