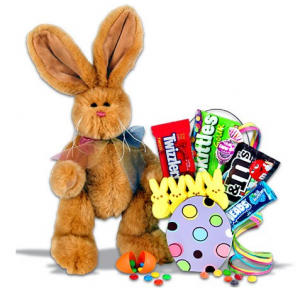 Welcome to the Hippity-Hoppity Easter Bunny Gift Basket Giveaway!
Thrifty Momma Ramblings wanted to celebrate Easter by giving away this FANTASTIC Easter Bunny Gift Basket to one lucky reader!
Thank you for following and I hope you continue to follow my blog!
Enter for your chance to win a Hippity-Hoppity Easter Bunny Gift Basket Giveaway! from GourmetGiftBasket.com! This is a $30 retail value!
The Easter Basket contains the following:
* Container comes in assorted colors and styles
Ingredients:
· Harry Hare Rabbit 12″ – A beautiful, ribbon adorned bunny that's handcrafted using the softest imaginable fabrics, creating a perfectly huggable toy.
· Peeps by Just Born – A classic springtime treat of smooth, gooey marshmallows that are molded into festive shapes and coated with a bright, sweet confection.
· Strawberry Twizzlers® by Hershey's® – 2.5 oz. – Delicious, chewy fruit twists that burst with the bold flavor of juicy strawberries.
· Plain M&Ms by Mars – 1.69 oz. – These iconic, bite-sized candies are made with premium milk chocolate and coated in a crisp chocolate shell.
· Sour Skittles by Mars – 1.8 oz. – Cheek-puckering spin-offs of the classic skittles that combine the sweet, fruity flavors of the original candy with deliciously sour tastes.
· Blue Raspberry Airhead by Van Melle – .55 oz. – Chewy, taffy-like candy that's perfectly flavored with the irresistible taste of blue raspberry.
· Charms Blow Pops – An delectably sweet lollie that ingeniously wraps around a center of chewy, fruity bubble gum.
· Colorful Bright Easter Egg – Mimicking the brilliant hues of spring, these brightly colored eggs are the perfect places to store Easter treats.
Giveaway ends on March 26, 2013 at 11:59PM EST! Only to USA residents age 18 and older. All you have to do to enter is click on the link above! Easy peasy. Good Luck!
Anything to Add? Leave a Comment!