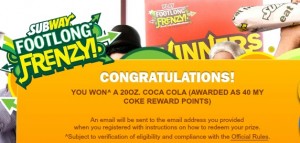 Enter to play the Subway Footlong Frenzy game to win a possible FREE 40 My Coke Rewards Points!
Another new code was added: MPWWRFTY added on 2/21!
You can also use these codes:
JCH9HH6Y added on 2/19!
KXX9KX7A added on 2/18
JVPJJ9V9 added on 2/13
RNYFP9YK added on 2/11
SOUTHWEST
RJJ3JXAX
JS7XSCXX
I just won and I already received my email with the points! 40 Points is equivalent to a FREE 20oz Coke!
Let me know if you are a winner!
Anything to Add? Leave a Comment!