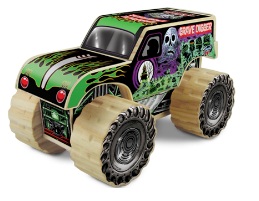 Bring your kids to build a FREE Monster Jam Build at Lowes Build and Grow Clinic For Kids on Saturday, February 23rd at 10am!
Your child will love the Monster Jam kit featuring Grave Digger! Bring them to Lowe's this weekend to get closer than ever to one of their favorite Monster Jam superstars! They also have a Monster Jam, featuring Monster MuttBuild and Grow Clinic on March 9th that you can register now.
Build and Grow Clinics are free to the public and occur every other Saturday at 10am. Registration opens a few weeks before each clinic's date. Sign up here.
Anything to Add? Leave a Comment!