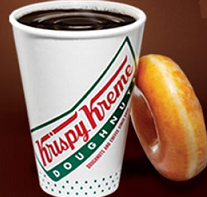 Starting on 3/1 you can get a FREE Krispy Kreme Coffee Samples at 10am EST!
From their page:
"March 1 @10am ET, join us for a live Twitter/Instagram chat with Krispy Kreme Chefs Ron & Mark. We'll talk about our Glazed Banana KREME Pie and other delicious treats. We'll also give away Krispy Kreme signature coffee samples to fans who participate."
Anything to Add? Leave a Comment!