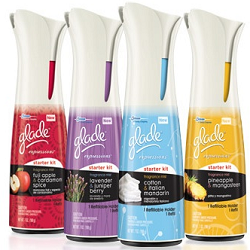 We have 2 NEW Glade Expressions coupons! Make sure to print both out twice!
Print out $2.00 off any Glade Expressions Starter Kit coupon makes it only 99¢ after coupon at Walmart as they are marked $2.99 each. OR look for the double packs marked for $2.99 so you would get 2 for 99¢ for an even better deal!
If you are shopping at CVS and wanted to do the $10 off $30 card then you could use this coupon there making it $2 but totally up to you. Just another option. So you pay $1 more but then it's good towards meeting the $30 threshold.
I found a Glade Expressions Money Back Guarantee Rebate for up to $4.99 on the starter kit or $3.99 on the refill. Just send in receipt, reason you are not satisfied, and write down the UPC code on the form. Must be postmarked by 2/28/13!
Anything to Add? Leave a Comment!