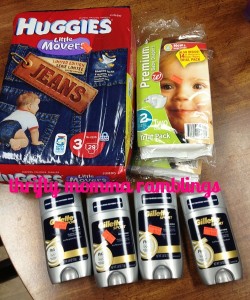 Today I found an AMAZING clearance sale at Walgreens! The endcap where they put the clearance items was jammed pack full of items!
I found lots of items but these are the items I bought that I had good coupons.
Huggies Little Movers Diapers were on sale for $3.99 and I had a $2 off coupon!
Gillette Deodorants were marked $1.25 each and I had the $1/2 P&G Coupons (exp 1/31/13)
Walgreens Brand Trial Packs of Diapers with Wipes for 50¢ each so bought 2 of them.
I got the Klennex that was on sale for 99¢ and used the
$0.55 off THREE boxes of KLEENEX Facial Tissue coupon
I also had $5 in Register Rewards that I used and a $2 RR. My final price was $2.46 with tax!
I plan on donating the diapers to our local woman's shelter. I saved over $40 and had a savings of 95%!!!
I received a 75¢ Walgreens Catalina for 4 boxes of Kleenex! SWEET! I am totally going back to stock up as we go through it quickly!
Anything to Add? Leave a Comment!