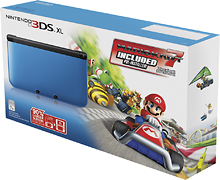 HOT BUY on the Nintendo 3DS Mario Kart 7 Bundle at Best Buy!
It's marked $159.99!!! This is a fantastic price!
Every other retailer has this marked $199.99 so this is definitely the best price plus Free Shipping!
Don't forget to use Ebates to get 1.5% cash back
Product Features:
This Nintendo 3DS XL comes with Mario Kart 7, so get ready to start your engines and race through the Mushroom Kingdom as your Mii or one of your favorite Nintendo characters. In addition to 3D visuals, this 3DS XL offers a variety of other features to enrich your gaming experience. Operate the bottom touch screen with the stylus and take pictures and more with the inward-facing camera and dual outward-facing cameras.
Anything to Add? Leave a Comment!