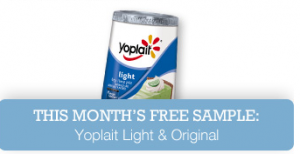 If you are a members of Live Better America then request a FREE Cup of Yoplait!
Just fill out the short form to get your freebie!
Hurry this is for the first 10,000 only!
Please allow 6-8 weeks for delivery!
If you are not a member, be sure to sign up so you can get next months giveaway!
*NOTE: CA, ID, LA, ME, MN, NV, NJ, ND, and TN are excluded due to dairy laws, but you will get an alternate freebie.
Anything to Add? Leave a Comment!