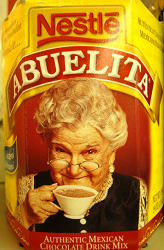 Starting today you can get a FREE Nestle Abuelita Kit!
This will go live today on November 19th at 1PM Eastern Time for the first 500! They will do this each week for the next 9 weeks (Until December 31st) who send a virtual hug.
To translate the page in English Click the "English" tab on the top left of their page. I will post a 10 minute warning!
If you are one of the first five hundred (500) unique individuals to submit a virtual hug during the Weekly Challenge Period you will receive an award of a kit. If you are not one of the first five hundred (500), but you are one of the next one thousand three hundred eighty eight (1,388) to create a virtual hug, you will receive a coupon.
Kit awards (500 per week) to include one (1) mug, two (2) packets of Nestlé® Abuelita™ Instant Chocolate Drink Mix and one (1) $0.75 coupon good towards your next purchase of Nestlé® Abuelita™ Granulated Chocolate Mix or Instant Chocolate Drink. ARV: $8.74.
Anything to Add? Leave a Comment!