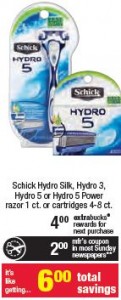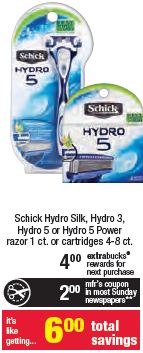 Starting today (11/18) at CVS you will get $4 Extra Bucks when you purchase any one Schick Hydro Silk Razor or Cartridge.
Then I noticed there was a limit of 2 which means I used the BOGO FREE Schick Silk Razor when I bought cartridges AND I had a $4.00 off Schick Silk Cartridges!!!
I received $8.00 in ECB's and only spent $6.xx with tax for both items! I did have $8 in ECB's to roll into this deal.
This is still a great deal even if you do not have the $4 off Silk Cartridges Coupon.
CVS Deal on Schick Silk:
Buy (1) Schick Hydro Silk Razor 1ct is $12.99
Buy (1) Schick Hydro Silk Cartridges 4ct is $16.49 to $17.49 ($16.49 at my store)
USe Buy 1 Schick Hydro Silk Refill Get One Schick Hydro Silk Razor FREE
Use $4.00 Schick Hydro Silk Cartridges 4ct (It came in a free razor on the back)
OR Use $2/1 Schick Hydro Refill, exp. 12/2/12 (SS 10/21/12)
= $16.49, Get (2) $4 Extra Bucks for a total of $8 in ECB's
Final Price- $4.25 to $4.75 each! with just the printable coupon
I got both for only $4.49 or you could get it for $6.49 for both if you use the $2.00 off coupon!
All of these a great deal!
Anything to Add? Leave a Comment!