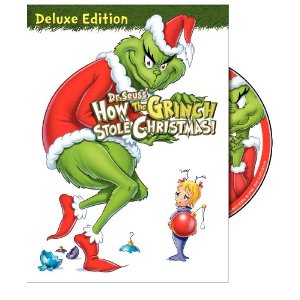 Check out this great price on How the Grinch Stole Christmas Cartoon DVD (Deluxe Edition)
on Amazon!
This is the classic cartoon that came on every year that so many of us grew up watching as kids.
I know for me the Holiday Cartoons that came on each year made it fun to count down to Christmas!
Now you can own this classic cartoon on DVD! This is a 50% savings!
You can get FREE shipping PRIME or Super Saver Shipping!
Grinch Song Selections:
"Opening Song"
"Trim Up the Tree"
"Welcome, Christmas"
-You're a Mean One, Mr. Grinch"
Whos Who in Whoville – Bio on all your favorite Grinch team with Creator/Writer Theodore (Dr. Seuss) Geisel; Director, Chuck Jones; Narrator, Boris Karloff; and The voice of Cindy-Lou, June Foray
Grinch Pencil Test
TNTs "How The Grinch Stole Christmas" Special Edition – A historic look at the Grinch with the late Phil Hartman as he takes you through the production team
Songs in the Key of Grinch – Featurette on the songs and voices inside of this famous movie
"Making Animation and Bringing it to Life" audio commentary with animator Phil Roman and June Foray
Anything to Add? Leave a Comment!