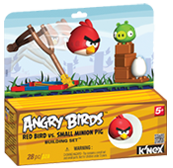 Starting daily you can play to get a K'NEX Angry Birds Egg Piece in their "Find the Golden Egg" Sweepstakes!
Each day only the first 500 people who enter will receive this game piece and ends on August 20!
This is live daily at 3PM EST or 2PM CST! A total of 9,995 people will get the white egg game piece.
IF you are one of the 5 (YES ONLY 5 Grand Prize Winners) that receive the Golden Egg Piece:
You will win a Apple® iPad 16G Black, with Wi-Fi (no data plan), $15 iTunes gift card, and 13 Sets of K'nex Angry Bird sets!
Good luck to everyone who enters and let me know if you get a Golden Egg!
Anything to Add? Leave a Comment!