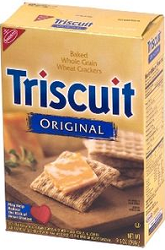 Click Here for a FREE Box of Triscuits will go live again daily at random times, so be sure to keep checking their page.
They will be doing this everyday until September 9th at random times.
To get the freebie, you have to send them a "complaint" about how mad you are that they have suggested you top triscuits instead of eating them plain.
Coupon should arrive in 4-6 weeks.
Here are the Official Rules:
Program ends 9/9/2012. Variable number of boxes or coupons available per day, at variable times per day.
Anything to Add? Leave a Comment!